---
Summer is on the way, and we're excited to share the first of three exclusive new CLIENT releases, starting with Client Style #25. On the cover, we have Lina Suenaert at A.SSET dressed in a turtleneck by ACNE Studios, trench coat by Missoni, pants by Andersson Bell and shoes by Miista.  The cover was photographed and styled by SoJIN with beauty byYeRin SHIN.
Cover production credits:
Photography/Fashion/Set Design by SoJIN
Beauty by YeRin SHIN
Model: Lina Suenaert at A.SSET
Cover fashion credits:
Turtleneck Top by ACNE Studios
Trench Coat by Missoni
Pants by Andersson Bell
Shoes by Miista
Published by Ian Cole
---
Also featured in the issue is this wonderful short film with an editorial titled 'Can You Feel Me', – the concept of Noor Zootina, filmed at The Edition in Barcelona. The film stars Nico Zulatto at Uniko Spain with narration by Carolina Van Wyhe. See full production credits below.
Art Director & Concept: Noor Zouitina
Photographer: Vinyet Feliubadaló
DOP/Edit: Judit Marsol
Model: Nico Zulatto at Uniko Spain/ Urbn Milan
Stylist: Noor Zouitina
Makeup Artist: Elena Loru
Script Writer: Noor Zouitina
Narrator: Carolina Van Wyhe
Music: Iván Gombau
Location: The Edition Barcelona
---
You can order the edition in print and digital editions from the links below and we hope you enjoy this preview!
Ordering:
Order your copy in Casebound Hardcover, Softcover or Digital Editions
Out now.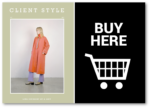 ---
Photographers:
Alejandro Brito
Helen Sandberg
Igor Vavilov
Meidan Gil Arush
Monika Mróz
SoJIN
Tomer Herman
Vinyet Feliubadaló
Art Directors/Producers/Stylists:
Daniil K
Judit Marsol
Luca Azzarini
Marta Orlikowska
Noor Zouitina
SoJIN
Toni Caroline
Models:
Elya Skorobogatov at Brick Models
Guille Castillo at Bento Models
Koral Tchintamirian at Aluma Agency
LINA SUENAERT at A.SSET
Mikita at Desired Men
Nico Zulatto at Uniko Spain
Weronika at United 4 Models
Xavier at Select Model MGMT
Editor's Picks:
The Maine, Mayfair, London
Native Instruments '40'S VERY OWN' by Noah "40" Shebib