---
---
The third generation smart wallet by Ekster® is here. This ground-breaking company has developed the worlds first voice-activated smart wallet, engineered to be sleek and stylish with RFID-blocking technology.
Lost your wallet? Ekster owners can now ring their wallet, find it on a map or access the Chipolo® community to help locate their missing items. Ekster's patented solar-powered tracking technology allows the device to last up to 2 months on a single charge (3 hours for full charge).
"This is the first solar-charged smart wallet on the market, which means you won't ever have to charge or replace your tracker batteries" – Richard Canneman, Co-founder.
Now also compatible with Google Assistant and Amazon Alexa, you can locate the wallet using a smart speaker or with a voice command on your phone. It can call your wallet and make it ring or show you its last location on a map. So advanced and with worldwide tracking, Ekster's solar technology is now even being utilised by major global shipping companies like FedEx to track their containers.
Hand-crafted from premium leather, this new smart wallet holds about 12 cards with fast access to 6 cards at the push of a button and there is an elasticated band to store some convenience cash notes.
RFID and NFC technology are used in most debit and credit cards and cloning has become a serious security concern over the past few years. This puts your banking data and account at risk so the Ekster Wallets unique technology blocks out all signals with its aluminium cardholder, keeping users fully protected against any data theft.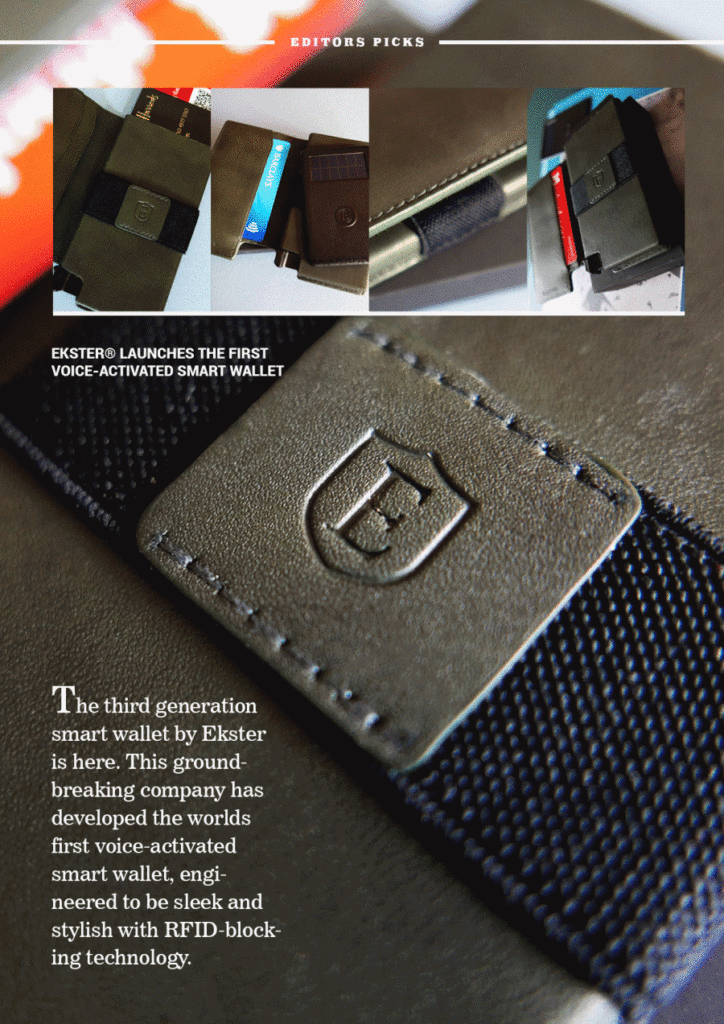 Since partnering with Chipolo, Ekster® has been able to trim the thickness of their trackers in half (0.09") plus make them twice as loud and the upgraded Bluetooth 4.2 provides a more stable connection and doubles the connectivity range. Even when out of Bluetooth range, each tracker has a unique QR code that links it to your smartphone like a fingerprint. If somebody finds your wallet and scans in the QR code, a message will be sent to you instantly with the location. Chipolo's worldwide crowd GPS tracker network will assist you in finding your wallet even when it's out of Bluetooth range. Their app alerts you with a GPS location when any Chipolo user is within range of your lost wallet. Pretty cool, right?
You can purchase Ekster online at their website and their products are available in over 50 stores worldwide, including Macy's Herald Square, Selfridges and Dubai Mall.
Words & Images by Ian Cole
Visit: www.ekster.com
---
As featured in Client Style #21
Softback Print & Digital Editions
eBook Bundle: 19 PDF Issues of Client Style
---