---
Marilyn was born in Kingston, Jamaica, in 1962 but moved to the UK as a child. He had a turbulent youth, but was always a fighter. When i met Marilyn i found that not only is that fighting spirit still with him, it is profoundly stronger.
From starring in Eurythmics 'Who's that Girl' video in the 80's to performing on Band Aid's 'Do They Know It's Christmas', Marilyn has modeled for Vivienne Westwood, Jean-Paul Gaultier & even has portraits of his iconic image hanging in the National Portrait Gallery. You could say he's been there, done that and bought the t-shirt, over and again.
After two decades he's back in the public eye, wiser, and we think you're going to like him…
Marilyn features in our latest issue, CLIENT #16, which you can purchase in softback, casebound hardback or digital editions including the App store, from the links below. Special thanks to Vivienne Westwood, John Varvatos, BLK DNM & Theory
PHOTOGRAPHY & INTERVIEW IAN COLE
FASHION EDITOR CRISTINA PLANELLES
Hair & makeup BY NATASHA LAKIC USING SISLEY
FASHION ASSISTANT Cristina Alguacil
TALENT MARILYN
Client Magazine is published by Ian Cole
Purchase Options:
SOFTBACK: Available
LTD EDITION HARDBACK: Available
DIGITAL EDITION: Available
156 pages / Mono
Case-bound hardback & perfect bound softback
Limited Edition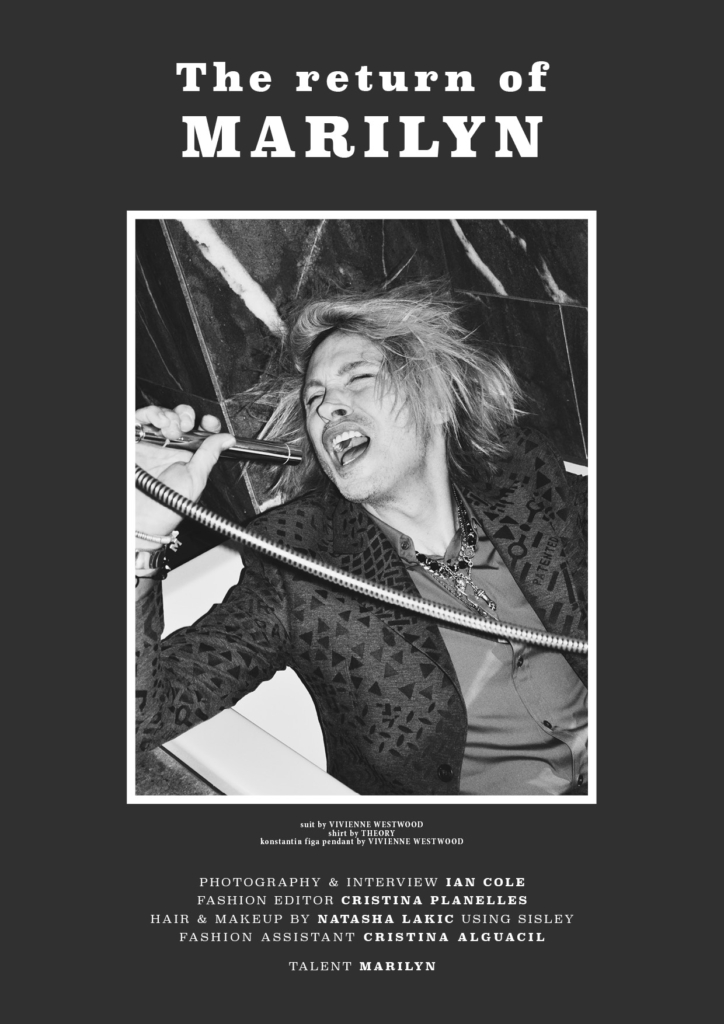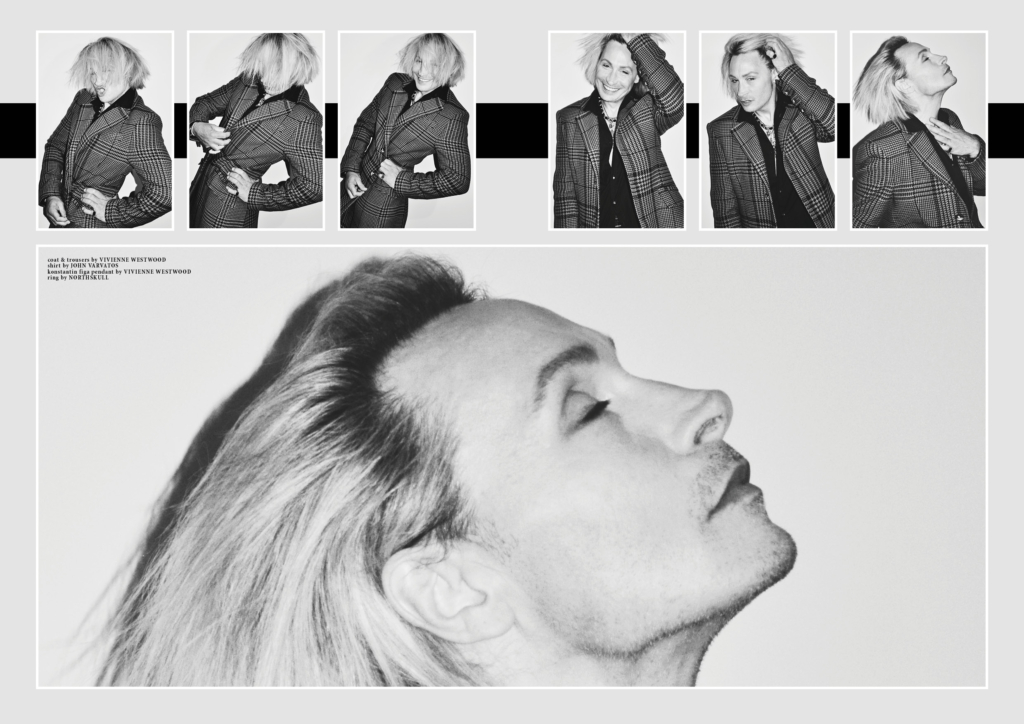 Interview by Ian Cole
1. It was a pleasure to meet and work with you Mister Marilyn. You've been there, done it and bought the t-shirt – at least twice. With all your life experience, how does it feel to be thrust back into the public eye after all this time?
It's an interesting journey, but being thrust into the public eye just means you're meeting more people and exchanging ideas, which is a process that I love. I get to be creative and to shine, which is my purpose on this planet.
2. More than just a chart topper – you've been called a pop icon, fashion icon and gay icon. Do these labels mean anything to you?
Yeah, it does. It's like a symbiotic exchange and that means something. If people tell you that you mean something to them and then they give you the reasons why, that's a great feeling and, to have that, to actually stand for something for someone, means a great deal to me.
3. I know you've worked with some of the biggest designers in history. Would you ever consider doing more of that type of work?
I've worked with some amazing designers and I've been lucky enough to pick and choose who I've worked for and what I've done with them (Vivienne Westwood, Marc Jacobs, Jean Paul Gaultier) I've done runway shows all around the world and it's another element to performing, which I love. So I'm absolutely up for that.
4. You notoriously suffered from addiction for a long time, and successfully battled it. I'm sure you learnt a lot along the way, but can you share with us the most important thing that came out of that whole dark passage in your life?
The most important thing that came out of it was the absolute knowledge that no matter how far down one goes, you can always get back up again. You can always recover, and it doesn't have to be addiction, it can be anything. Basically that's hope right there, it doesn't matter what happens in your life – you can always come back from it or change it and move on.
5. Give us one piece of advice to somebody who feels they are being swallowed up by addiction?
I would say look within. The answers are within. If you want to get well just know that you absolutely can do it and once you start doing it – it's like having a little seed that you plant and you just put a bit of water on it and it starts growing, and then you see that it's growing, so you put more water on it and nurture it and it grows and grows, and that's your recovery, and that is absolutely possible.
6. Can you count on one hand or two, how many 'real' friends you have? How important are those friends now, at this time in your life?
I'd say one hand, and they're extremely important because I discuss things that are going on in my life with certain people and, not only do they encourage, a true friend doesn't judge you, helps you when you're down, when you go too high they bring you down a little bit, kind of keeping you in check. I do that for my friends too… you run things by them… you don't want a friend that's the kind of friend that just kisses your arse and tells you how wonderful you are. I want real relationships and it takes me a long time to trust somebody and let someone in, but when I do they invariably tend to remain friends for life.
7. I found you to be smart, quick, witty and you don't take any bullshit. Were you always like this or are these the fruits of your life experiences?
I think I've always been like it. If something doesn't ring right with me, I'm not one of those people that can just pretend everything's fine. I just don't take any bullshit in my life, I want truth and positive energy. That's what I'm looking for and that's what I give out.
8. I've learnt that the universe always gets her own way. You have a new glow. Do you feel she is now working FOR you and this is finally your time?
I think it's always one's time. It's whether you're in the place to believe that. What you put out, you get back. If you believe it's not your time then it absolutely won't be your time. It's kind of like a catch 22, if you think everything's shit then it will be. It's like a self fulfilling prophecy. Do I believe it's my time now? Abso-fucking-lutey.
9. It's well documented that you and Boy George have known each other an absolute eternity. I read that you supported him as a friend through his own tough times and vice versa. It must be a great feeling to have someone in your life who is both 'personal' friend and 'industry' friend. What makes that relationship so robust?
Do you know what? I have no idea. I have absolutely no idea. I don't know why we're still friends. I don't know, I've got no idea.
10. I hear various influences in your new music, and in particular I love the reggae vibe. Your voice floats beautifully over the track 'Love or Money'. Tell us more about the meaning of that song?
I loathe going into explicit meanings of songs because I think you rob the listener of the choice to make it into what they want it to be. But if I had to be more explanatory with it, I'd say it's a question. It's a universal question. We're confronted by it every day, it's about principles and ethics. This is for me, I don't want to tell anybody else what they think the song should be about, that's what I think about it. When you ask the question 'Love or Money?', you have to have money in your life, but to what extent? It's like an endlessly fascinating question and you can ask yourself it all day long in different circumstances and come up with different answers all day long. It's an ongoing process, but me personally, I'm all about love, it's all about love. But saying that, you have to have money in your life so, there we go again, love or money?
11. What can we expect from your long-awaited album?
An album? Music… thoughts… ideas and such.
12. Your idol, Marilyn Monroe is one of history's most memorable icons – a strong woman yet troubled and vulnerable. What do you admire most about her?
That she was strong, troubled and vulnerable.
13. Finally, i want to hear Marilyn's top 3 tips for living life?
1. Get up in the morning and do a self check on what the plan is for the day
2. Keep yourself clean
3. Be grateful for what you have
Marilyn's new single 'Love or Money' is out now and an album will be following soon.