---
Made In Spain features Moises at Fifth Models photographed by Jose Martinez for Client Magazine #23 with styling by Diana Boier. Fashion includes Versace, Dior, OCKSA, Danger Concept, Nina Ricci, and vintage pieces from the stylist's archive. 
Photography: Jose Martinez
Styling: Diana Boier
Makeup Artist & Hair Stylist: Max Mendez
Model Moises at Fifth Models
---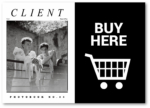 Order Digital & Print editions:
Order casebound hardcover, limited edition hardcover, perfect-bound softcover & digital editions. Link: https://bit.ly/3S68cOC
For print orders, shipping is free within the UK
Get 22% discount on orders using code "V22".