---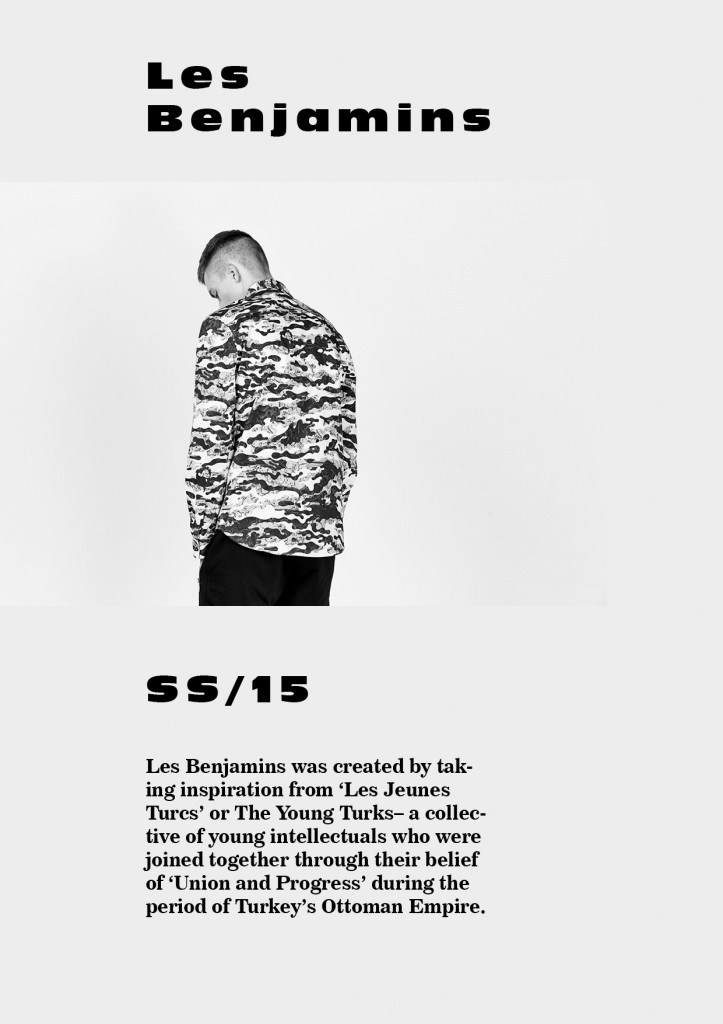 Les Benjamins was created by taking inspiration from 'Les Jeunes Turcs' or The Young Turks– a collective of young intellectuals who were joined together through their belief in 'Union and Progress' during the period of Turkey's Ottoman Empire
This is the attitude that creator Bunyamin Aydin wanted to convey when starting the brand – a distinctive emulation through clothing of the rebellious yet defiant spirit of youth. The Istanbul based label managed to create quite a storm with its first collection and, after only their second season, already boasts an impressive list of global stockists which currently includes Harvey Nichols, Galerie Lafayette, Browns, Saks and Bloomingdales.
Their second offering for Spring/Summer 2015 contains a concise mix of easy to wear and refined tailored pieces which help to demonstrate a clear consistency from their A/W 14 collection while ultimately managing to stay within their brand ethos. Bomber jackets, shirts and tees are seen in a new camouflage print amongst hoodies with printed branding, while satirical collages of popular cultural icons are cleverly emblazed upon their now-signature graphic tees.
The monochromatic tones of the collection are infused with touches of pale yellow and dark green camo on structured jackets and baggy pocket shorts, while zipped-knee trousers become the ultimate standout piece. Les Benjamins Spring/Summer 2015 collection successfully fuses contemporary menswear with a definitive street wear edge while remaining truly wearable and providing a defiantly unique aesthetic.
As featured in Client Style Guide #10, written by Katrice Dustin, Staff Writer
Ordering:
Available in print & digital editions from the CLIENT Archive