---
Cult British label Sibling – a design trio consisting of Joe Bates, Sid Bryan and Cozette McCreery have paired up with TOPMAN for a festive range of winter knits including sweaters, scarves and beanies. For the collaboration, Sibling revisit and rehash some of their most memorable patterns and motifs from their main line, giving their signature Fair Isle patterns, fairground fonts and skull motif from one of their first collections a Christmas make-over.
For our new Client Style Guide USA, we caught up with Sibling's Cozette McCreery to find out more about the collaboration and see whether a Sibling knit is for life, and not just for Christmas…
1. How did this collaboration come about? Apparently, Gordon Richardson approached you at your LCM party?
Well it wasn't really a party just as a tradition we have brunch with our friends and staff in a nearby place and a friend of mine (there are lots of friends in this sentence but hey that's what we are about at SIBLING) Al was working for Topman on-line press  at the time and he mentioned the Topman Pub to me the night before. So we pitched up, all 9 of us in this small space and ate burgers and drank lager and Gordon found us there and said that we HAD to do something. To be honest he had been trying since we started but the timings on both sides were never perfect. This time it was!
2. Did Topman leave you to your own devices?
Not really and in a way yes. We like to keep everyone's life simple so at our first meetings with any collaboration team, the first things we always ask are: What are your expectations? That way should a 'client' want something leopard we know straight away. Saves a lot of time and stress in the end however blunt it may seem to others. Anyway, Topman went through some of our archive images and we came up with a mood board together taking key elements such as Fair Isle, embroidery, fairground fonts and the skull from one of our first collections and started from there. The high street is always accused of cannibalising designer's work, this way we did it to ourselves.
3. How important do you think it is for brands to do high-street collaborations?
Can't speak for others but for us it is we hope, a small thank you to all our supporters. Many of them especially on Social Media are quite young or are studying and can't realistically afford the main line and this is a way of them joining our knitwear family. Another plus is that those who don't know us will see the garments in store or online (let's face it you can't miss them!) and this can only have a positive effect on the brand's growth.
4. Are you big Christmas fans at Sibling?
I'll play Mariah Carey's All I Want For Christmas as part of my DJ set in oh, June so yep. Haha. But really, Christmas for us is now just a few much needed days off pre-LCM. Actually, LCM has killed Christmas. Boo! LCM is very very important for us by the way so we don't mind really.
5. The motifs, colours and Sibling-signature Fair Isle patterns are quite subtle in their 'festivity' and don't appear to be restricted to the Christmas period. Where these designed to have a longer shelf-life than just Christmas 2013?
Yeah of course! Jumpers are like pets: Not Just For Christmas
6. What is your favourite piece from the collaboration?
Personally the Antler Skull in white stitching on black and the matching stripe scarf. Have you seen the lookbook images? Abel looks great in it! And it's monochrome which is quite weird for us three.
7. As 2013 comes to a close, what can we expect from Sibling in 2014?
LCM in January. Am really excited about it! I get more excited by menswear because it's how we started and it's been quite a battle getting here so every show is like a small victory to me. BRING IT ON!
Very special thanks to Cozette and the Sibling family. Interview by Dean Stephen Davies for Client Style Guide USA.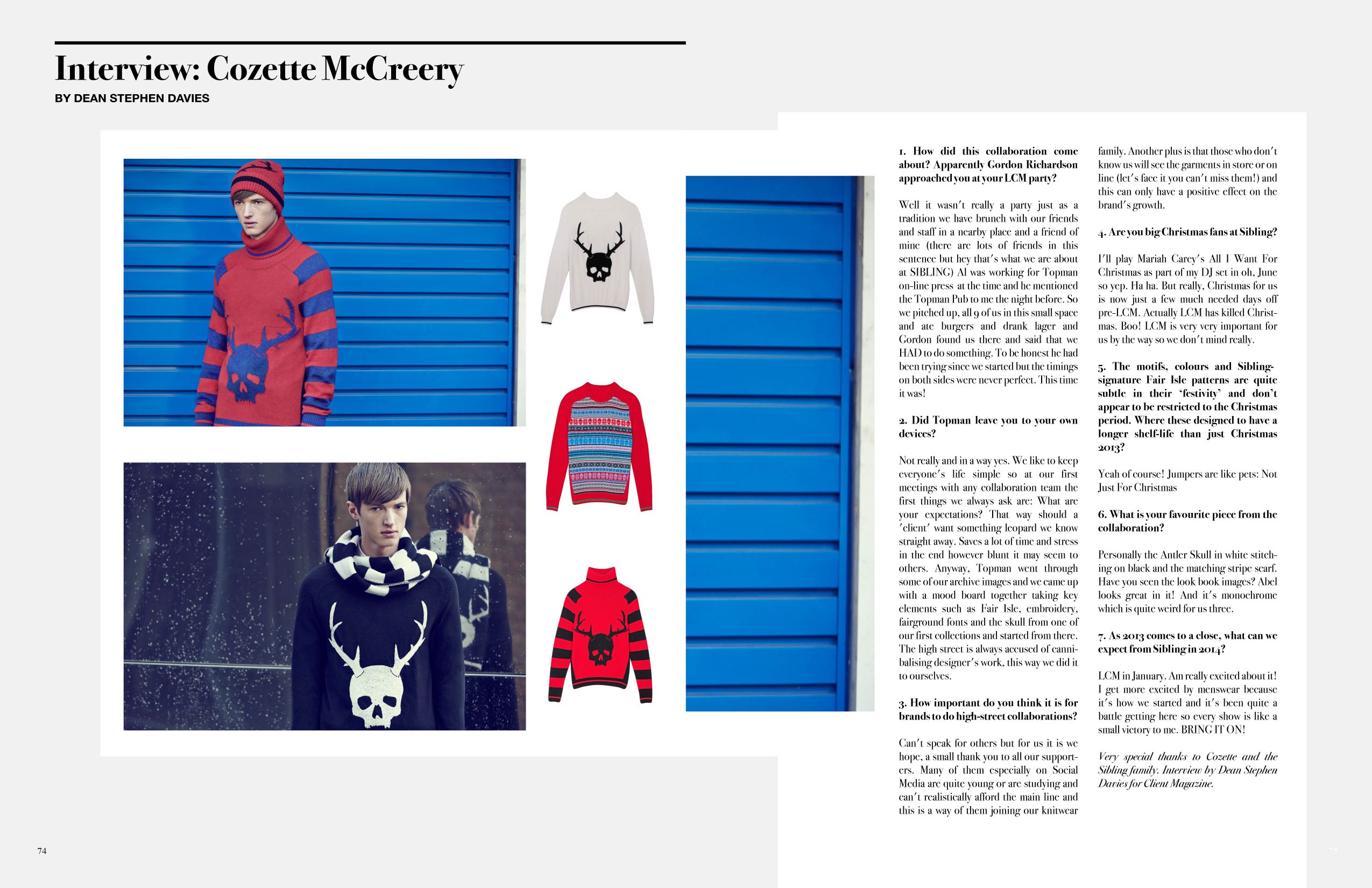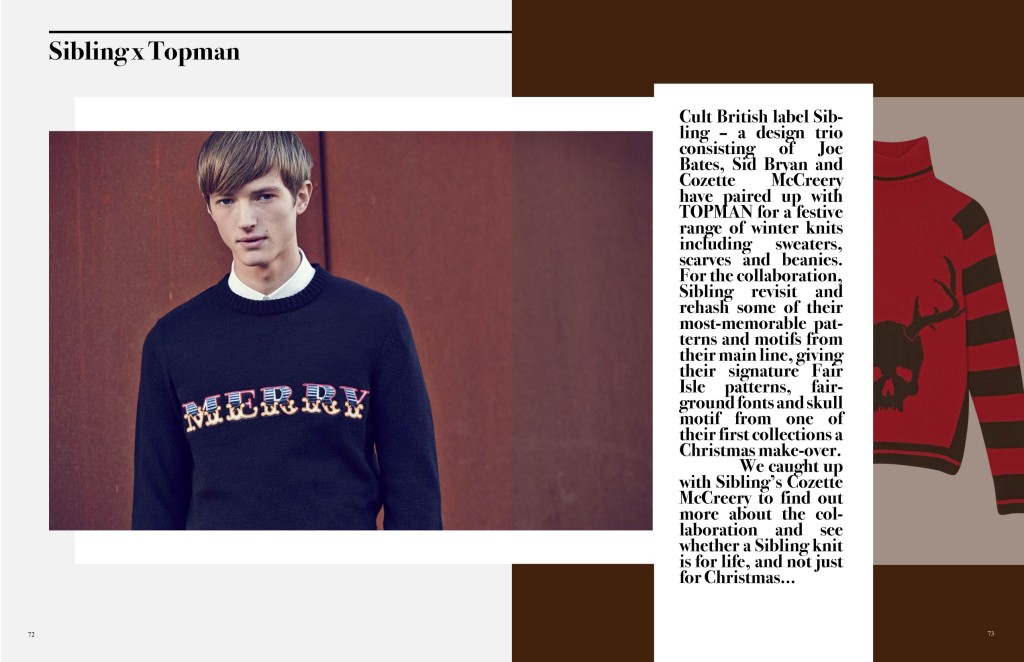 SaveSave