---
The cover of CLIENT Magazine U.S. #15 was photographed in the shadows of the iconic Williamsburg Bridge in New York and features Ian Weglarz photographed by M. Cooper with Art Direction & Styling by Dfernando Zaremba. Ian wears a white shirt by Prada, black-tie by Prada and Denim Jeans by Amiri. 
The issue features ten fashion editorials plus features and we hope you enjoy this exclusive preview! The issue is available to pre-order now in digital and print editions from the link below. The digital edition is out now and print orders will ship from 24th January, depending on which country you live in. Get 20% discount using code "BLK20".
Published by Ian Cole for Client Magazine
A4 / 297mm x 210mm
Perfect Bound Softcover & Casebound Hardcover
128 pages
Full colour
---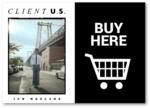 Order Digital & Print editions:
Order casebound Hardcover, Perfect-bound Softcover & Digital Editions. Link: https://bit.ly/3xSMSln
Get 20% discount using code "BLK20".

---
Photographers
Aitor Sola
Ánxel Ortíz
Azazel
Deid García
Jaime Perpinyà
Leonardo Bornati
Luis Ayora
M. Cooper
Marie-Elodie Fallourd
Mariona Font
Sergi Pons at Lighthouse Agency
Sophie Daum
Stylists/Art Directors/Producers
Annah Segarra
Carmen Merida
Devon Nicholas
Dfernando Zaremba
Dilara Tuncer
Elena Dini Silvera
Fisheye Artist MGMT
Gemma de los Santos
Inés de la Cruz
Margherita Alaimo
Oriol Robert
Casting
Alin D at Trend Models MGMT
Dan Paea at View Management
Deu at PRM Agency
Gerard Albajar at Fifth Models
Jos Mayer Wildner at Special MGMT
Lamine Diouf at M Management
Lucas Geneste at M Management
Mats Engel at Elite Model MGMT, Spain
Tania at Edit Models
Zacharie Villot at Success Models