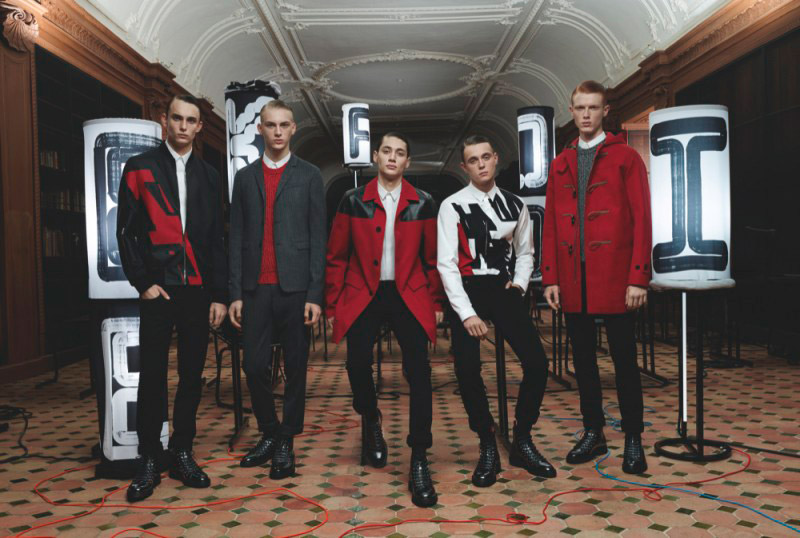 With Kris Van Assche at the helm as Creative Director of Dior Homme, this was a much anticipated release and as was expected from Van Assche, the palette is dark, but autumn browns and punchy red hues really add to the character of the collection. Whilst effortlessly contrasting bold avant-garde motifs with the finest quality wools and contemporary fabrics, it's clear that this collection is really all about the figurative silhouette.
Stand-out pieces include the tailored dress shirts (given a sporty edge with blue rubber zip detail), white shirt with red strap detail, low-rise slim-cut black wool trousers, striped grey stretch wool trousers with cargo pockets, beige dune cotton jacquard jumper, and statement coats including a double-sided rouge officier & beige fabric with beige dune strap detail overcoat and black canvas coat with technical membrane and detachable gilet. Clearly intended for contemporary gents and boys and by paying attention to the immaculate detail in these pieces you will see the real value of this outstanding collection.
Casting, as always is first class and it's great to see our former cover boy (Issue #10) Dominik Sadoch at AS Mgmt.
Photographer Karim Sadli
Designer Kris Van Assche
Stylist Mauricio Nardi
Written by Ian Cole, Editor-in-Chief