---
React Now, Christopher Raeburn's Spring/Summer 2019 collection expresses the urgency to wake up and realise that climate change is real and a danger to the planet. Change has to be NOW, not tomorrow, not next week and not next year. Raeburn has been shouting about this for nearly a decade when some people viewed his sustainable collections as just 'politically correct'. But this has always been a passion of his and now the realisation of what he has been saying has finally hit home with the masses.
The fluctuating weather has seen snow in Spring, the hottest day on record for the UK in February, heatwaves in Autumn and a concerning increase in storm and tsunami activity around the world. We must consume less and be mindful of what, where and why when shopping. Resources are not always sustainable.
The RÆFOUND Norwegian Snow Parkas where originally manufactured for life in Northern Scandinavia, for colder climates and are designed for training which allows the wearer to 'run, fight and function'. They are also enabling the wearer to stand for something they believe in.
We're all part of the problem but we're also all part of the solution.
REMADE pieces have been specifically built to meet the demands of the extreme changes in temperature. German Rain Capes are REMADE from original protective rain capes, highlighting how delicate the world is with their transparency. Quilted liners are REMADE from original protective parkas and are lightweight and flexible to enable extra layering. Unique and iconic ribbon parachute pieces have been deconstructed and then intelligently reconstructed in the East London RÆBURN Lab.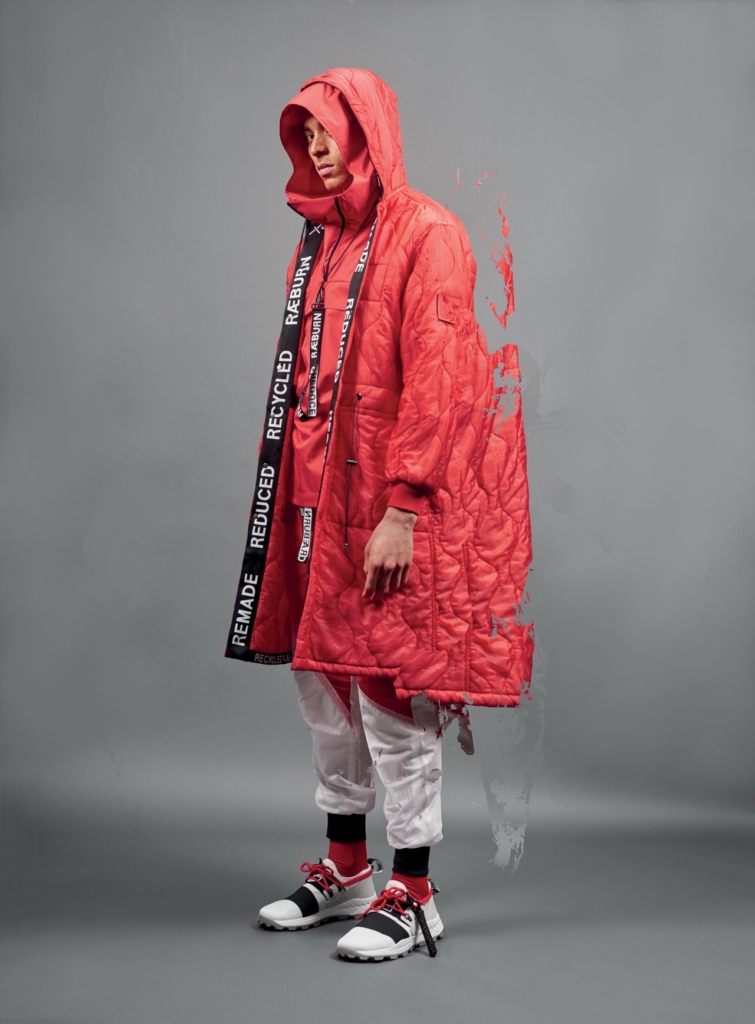 Pieces have been made using sand-wash silk, organic cotton and recycled polyester and working with NASA, feature haunting images of melting glaciers taken from space. References from the REMADE pieces feature in the main collection with the NASA images and the parachute detailing is used across jersey and RECYCLED outerwear.
The beautiful giant panda is this season's mascot. Whilst no longer an endangered species, the panda is still one of the world's rarest animals and the perfect symbol to remind people that anything can be saved, with effort. The animal has been flipped upside down on crews and t-shirts to remind us of its vulnerability to extinction and it also features on the REMADE rucksack. The new mascot links to the off-cut animal making workshops, with all proceedings donated to WWF, the world's leading independent conservation organisation.
Raeburn has also collaborated with Timberland for SS19 with pieces REMADE from original 1980s classic Timberland® outerwear, sourced in flea markets and vintage shops, then made into new pieces in limited quantities using recycled PET and organic cotton. A further collaboration to highlight is with Japanese bag maker Porter. Fusing quality craftsmanship with innovative design, a waist bag and rucksack has been realised, made in Japan from CORDURA® EcoMade; a highly durable recycled polyester with a contract seasonal fluorescent red lining.
"RÆCT NOW; choose well and choose less."
Visit: www.raeburndesign.co.uk
Written by Ian Cole, Editor-in-Chief