---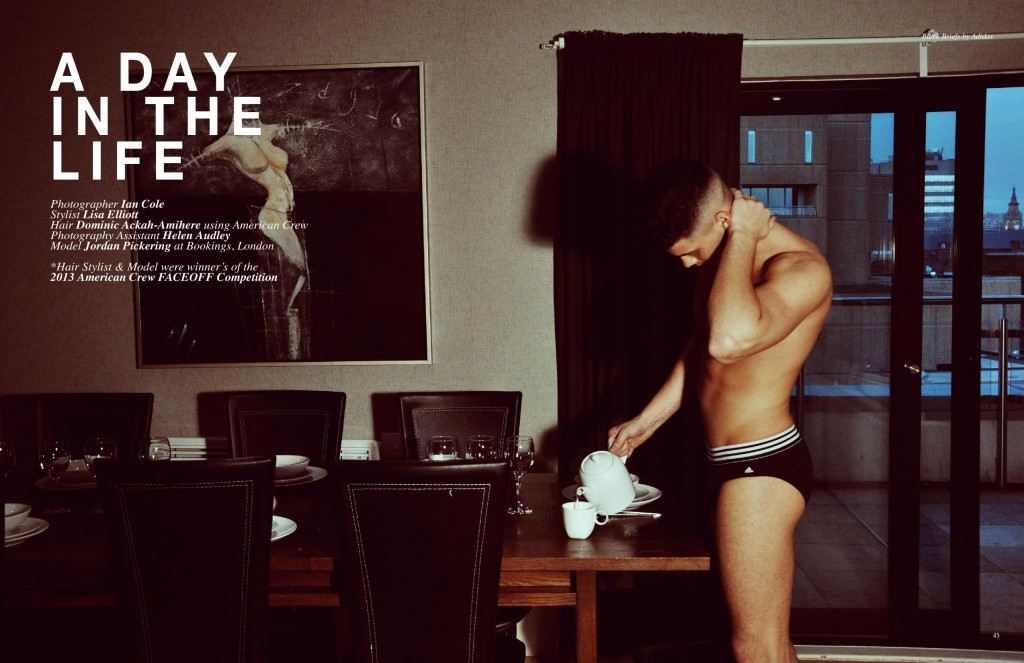 Hair Stylist Dominic Ackah-Amihere & Model Jordan Pickering at Bookings were winners of the American Crew 2013 FACEOFF Competition, in their respective categories. A Day in the Life features both in an editorial styled by Lisa Elliott and photographed by Ian Cole for Client Style Guide #7. The story was photographed in Liverpool, UK at the Merchant Quarters Penthouse by L3 Living and nearby by Liverpool Docks. Fashion and accessories include Tom Sawyer, Paul Smith, J.Crew, Ted Baker, Finlay & Co, Marc by Marc Jacobs, Massimo Alba, Stephen Einhorn, Antoine & Stanley, House of Frazer, Doherty, Evans & Scott, Massimo Piombo, Gant Rugger, Brioni, Eric Bompard and Folk.
Ordering:
Available in print & digital editions from the CLIENT Archive
VIEW ISSUE ONLINE (free)
Photography by Ian Cole
Styling by Lisa Elliott
Hair Styling & Grooming by Dominic Ackah-Amihere using American Crew Products
Photography Assistant & behind the scenes by Helen Audley
Model Jordan Pickering at Bookings, London
Special thanks to Paula Whittaker at L3 Living for the use of the Penthouse at Merchant Quarters, Liverpool. Visit:
www.l3living.com and Mark Shorrocks at ICON / American Crew.