---
'Virus Classics' is a thoughtfully created collection of sculptures and prints in regards to the worlds current pandemic by artist, photographer and historian Jolyon Fenwick. The pieces are created with a light sense of dark humour, as a graphic record of these uncertain times.
The series of 21 volumes mimics the size and style of paperback classics in The Penguin English Library, designed by Coralie Bickford-Smith. Classic books familiar to all are satirically referenced and presented with title plate and logo-debossed like the originals. These include 'At Least Two Metres From The Madding Crowd' By Thomas Hardy, 'Covid's Metamorphoses' Lionel Shriver's 'We need to talk about Boris' and Samuel Beckett's 'Waiting for Ocado' offering a typically British humorous slant. Fenwick's contribution is one that cleverly amalgamates concept and exquisite design with British dark humour.
"Fenwick has taken some of our most treasured literary classics and give them a topical spin."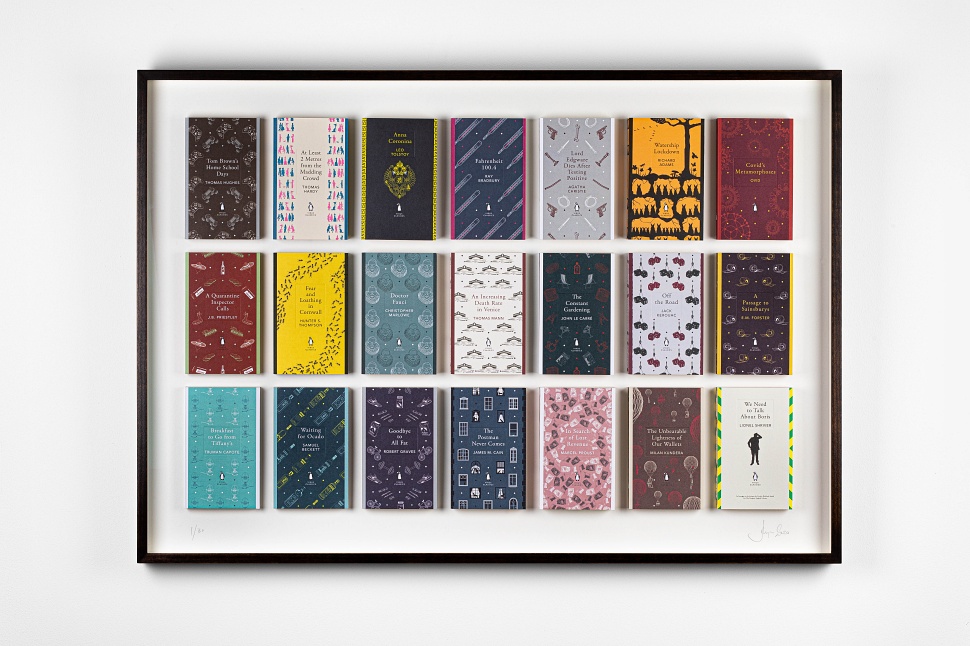 "My efforts are not half as the supremely elegant designs by Coralie Bickford-Smith, but her format did allow one or two extra black jokes – a great tradition of British in a crisis but one, it seems, hardly observed at all in this one – about the more egregious aspects (lockdown, quarantine, social distancing, school closure, regional hostility, panic buying, enforced leisure, epidemic alcoholism, government wrong-headedness and individual and national bankruptcy) of this awful period. I think my favourite is probably Lord Edgware dies after Testing Positive as, one imagines, even if he'd been bludgeoned to death in the library with the lead piping the powers that be would still hungrily add to the Covid figures." – Jolyon Fenwick
The new reality of Covid-19 or 'new normal' has enforced restrictions on the daily lives of most people. Whilst awaiting the return of normality and familiarity, this is a historic event that nobody is likely to forget. Fenwick is one of the many artists who has been inspired to produce work in this 'age of Covid' and has jovially combined a lovable concept with classic design and British dark humour. Works are available to buy on Fenwick's website.
Words by Adam Peter Hicks for Client Magazine