---
The vast expanse of the Kalahari Desert has always held a certain mystique, a place where the rhythm of nature beats to its own unique tune. Now, nestled within the embrace of the southern Kalahari's ancient Korannaberg mountains, a new safari development has emerged that promises to redefine the way we experience this untamed wilderness – the Loapi Tented Camp in the Tswalu Kalahari Reserve.
Spanning an impressive 441 square miles, the Tswalu Kalahari Reserve is one of the largest privately protected areas in South Africa, a testament to the commitment to safeguarding the region's unique biodiversity and natural beauty. At the heart of this expansive wilderness lies Loapi, a tented camp that embodies the essence of eco-luxury and exclusivity.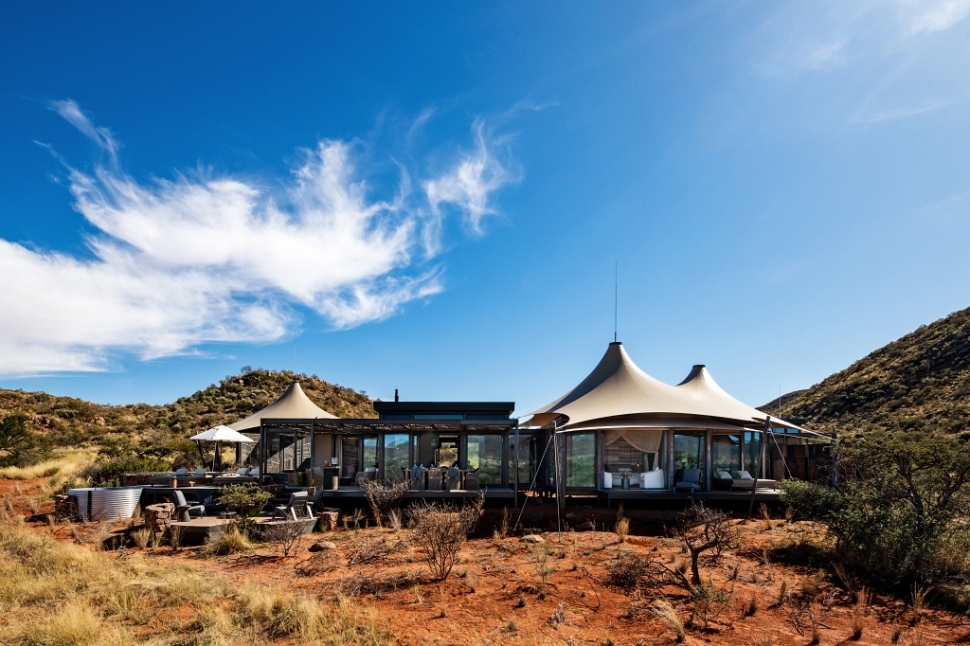 In the local Setswana language, Loapi translates to 'the space below the clouds,' and this name couldn't be more fitting. The camp's design harmoniously merges with the natural landscape, offering guests a sense of being suspended between earth and sky. Cape Town architectural firm GAPP Architects meticulously crafted Loapi to adhere to stringent environmental standards, ensuring minimal impact on this fragile ecosystem.
 "The overarching design philosophy was that the new camp needed to be as low impact as possible, to reflect Tswalu's ongoing commitment to sustainability and the owners' vision of regeneration of the environment." – Sally Tsiliyiannis of GAPP Architects
The result is a modular design that combines canvas, steel, and glass, with most components manufactured off-site to minimize environmental disturbance.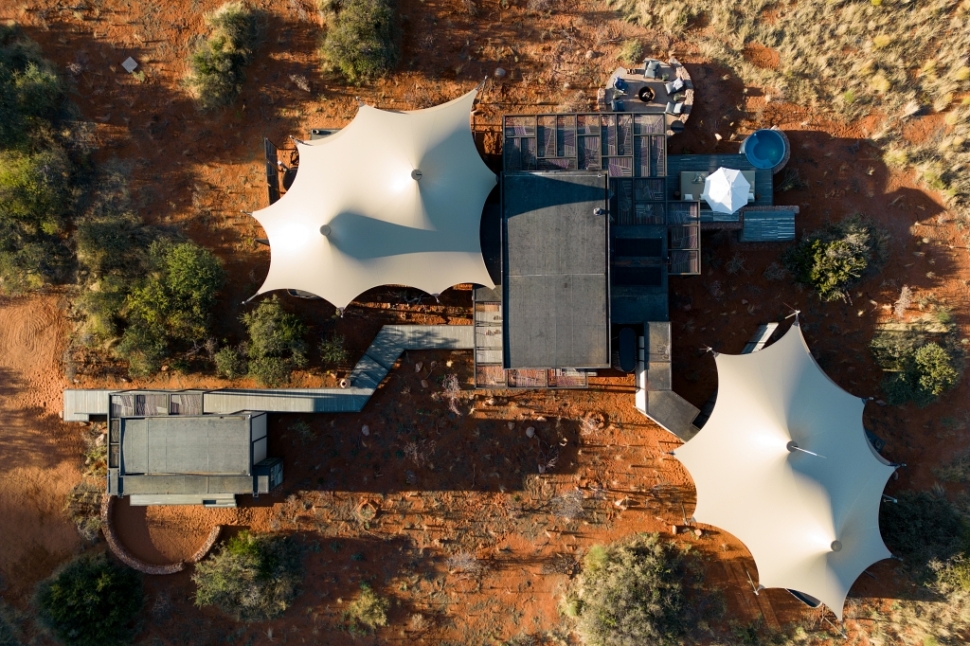 Loapi's six private safari homes redefine luxury in the wilderness. Each home, accommodating two or four guests, is an exclusive-use retreat or independently run micro-camp, ensuring absolute privacy. The living and dining areas, fashioned as contemporary glass and steel pavilions, serve as the heart of each home. They feature open-plan kitchens, fully stocked pantries, and bars for those who wish to savour the pleasure of preparing their own meals.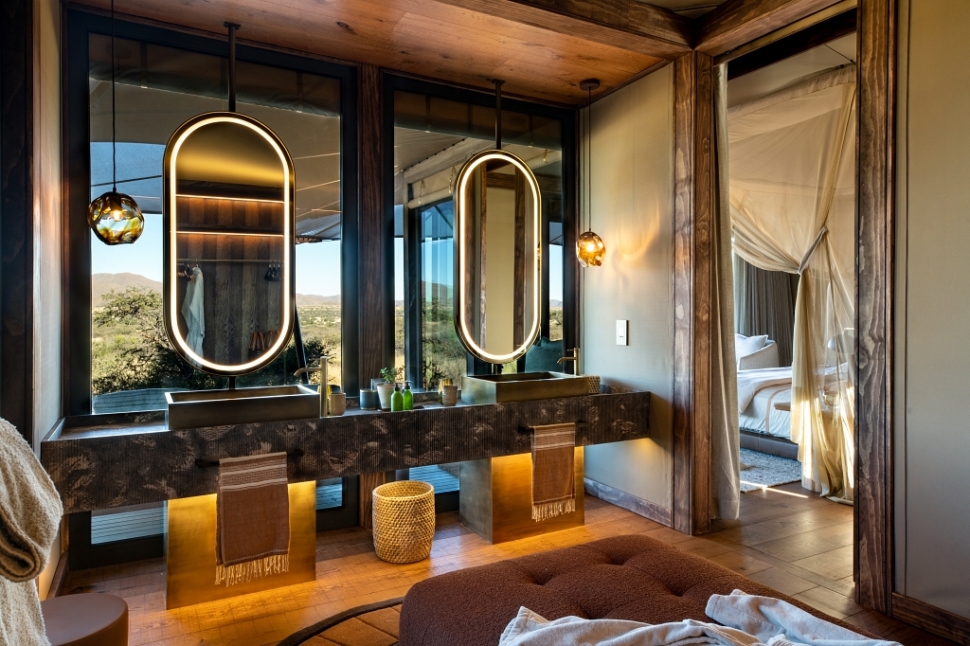 Deep, shaded decks beckon with day beds for relaxation, water-wise plunge pools for refreshing dips, and fire pits for toasting under the Kalahari's star-studded canopy. The bedrooms, cocooned under canvas, connect guests to the sights and sounds of nature while providing exceptional comfort and insulation from the desert's extreme temperatures.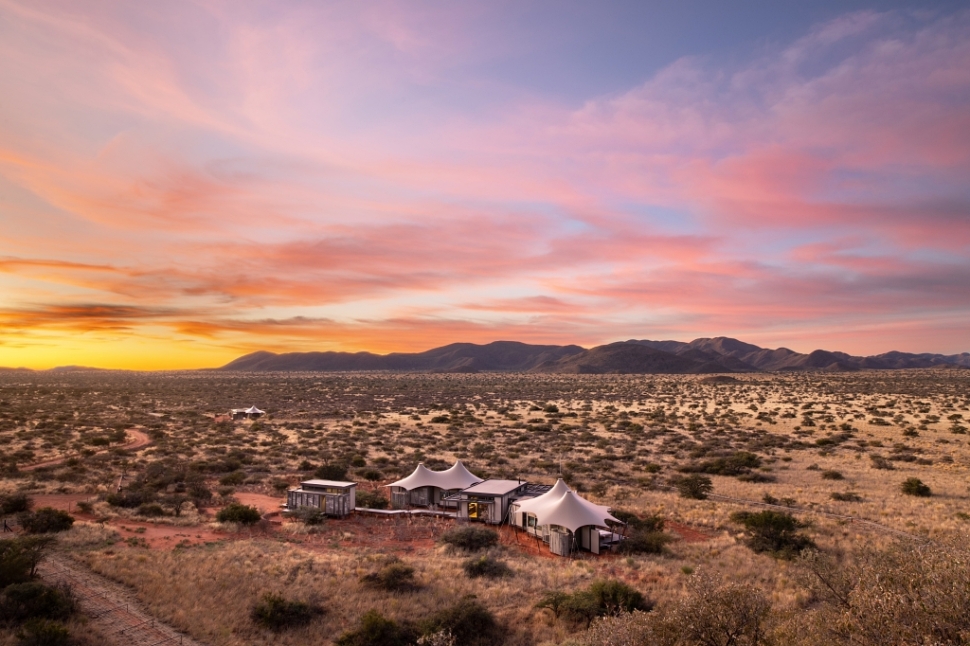 The camp's design incorporates generous overhangs, ensuring ample shade and reducing the need for excessive energy consumption. Moreover, Loapi champions eco-friendly solutions, boasting the latest in solar power and water recycling technology, energy-efficient air conditioning, and solar-powered pool pumps.
"Inspired by the nomadic spirit of camping, the tented homes offer complete freedom to explore the reserve's vastness and diversity at your own pace." – Russell Binks, Marketing and Public Relations Director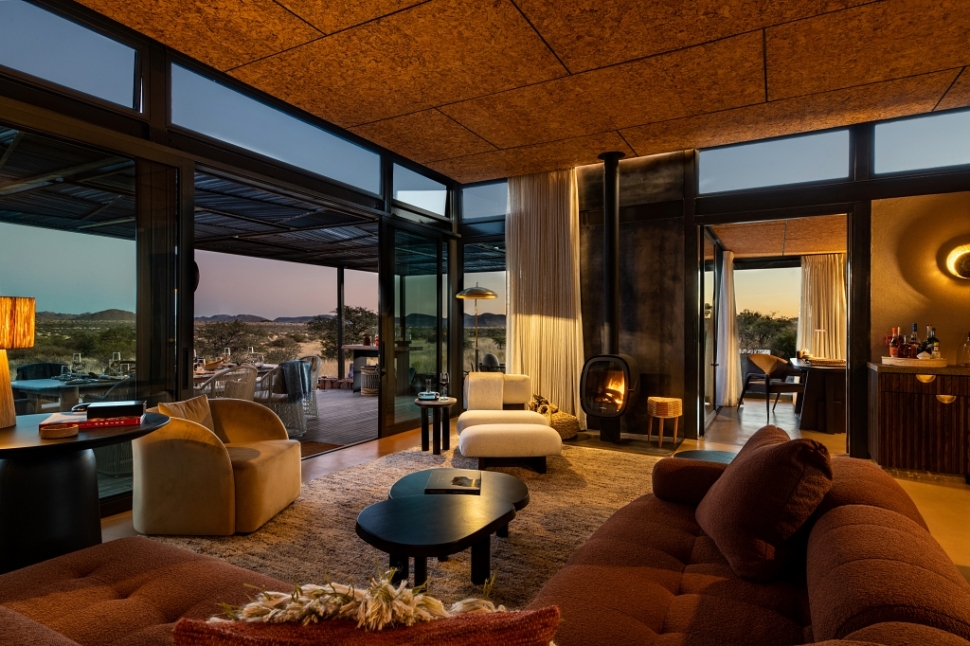 Loapi Tented Camp offers a transformative experience, one that encourages guests to embrace the true wilderness spirit. Each of the six homes (four one-bedroom and two two-bedroom homes) spans over 300 and 400 square meters, respectively, ensuring complete privacy on your safari adventure. Micro-camps are thoughtfully spaced at least 50 meters apart, guaranteeing solitude. Every home includes a private team consisting of a butler (homathi) and chef, a private vehicle, and the undivided attention of an experienced guide and tracker.
Guests can choose to spend their days tracking Kalahari keystone species, witnessing the desert black rhino or brown hyena in their natural habitat, or visiting nearby pans where resident black-maned lion pride converge. For a breathtaking start to the day, take a picnic breakfast to the top of Bushman Hill, where Hartmann's mountain zebra and greater kudu often grace the landscape. Above all, Loapi Tented Camp offers the ultimate luxury – the luxury of space and time to do nothing more than relax on the deck and gaze at the view, relishing the deep silence of the Kalahari.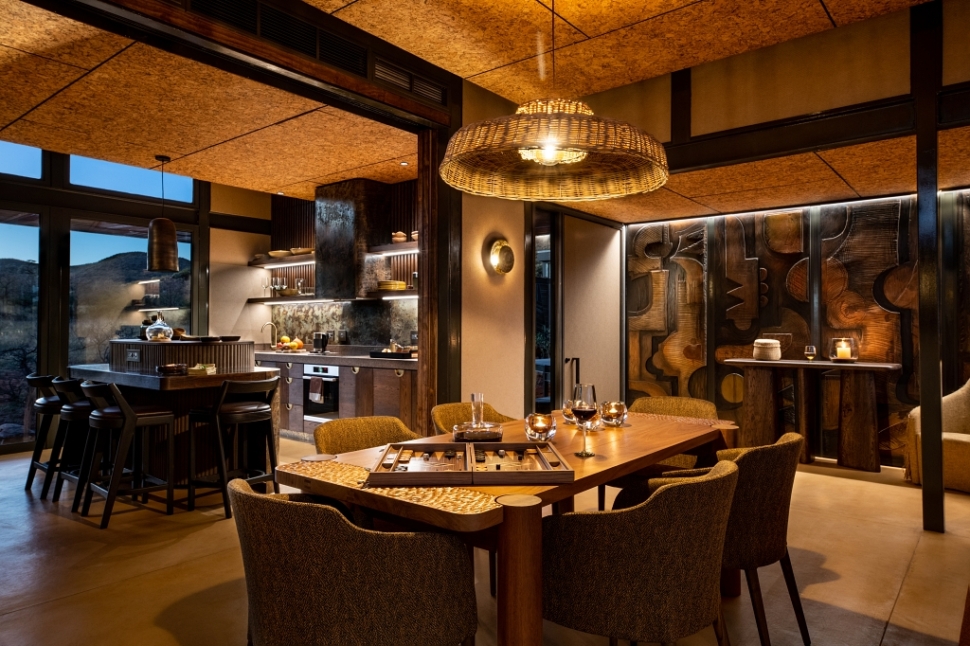 Tswalu Kalahari is not just a safari destination; it's a visionary conservation project with sustainability at its core. As a member of The Long Run, Tswalu places equal emphasis on conservation, community, culture, and nature-based tourism. With only three luxury safari camps on its expansive 114,000-hectare property, Tswalu boasts the lowest ratio of beds to hectares in South Africa.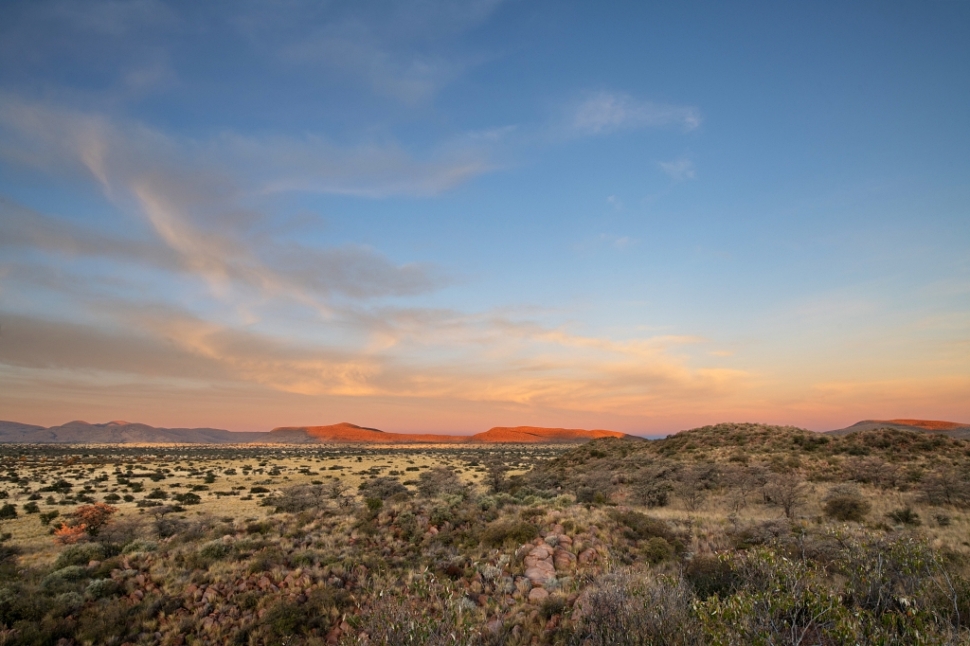 Tswalu's commitment to sustainability extends to its foundation, dedicated to research that informs crucial conservation decisions. Guests at Tswalu have the unique opportunity to interact with scientists and post-graduate students working in the field, becoming a part of a bold, regenerative conservation vision that aims to protect vital habitats and restore biodiversity.
So, if you're seeking a true wilderness experience, where luxury and nature coexist in perfect harmony, Loapi Tented Camp is a trip to add to your bucket list. It's an opportunity to step into the heart of the Kalahari and discover the magic that lies beneath the clouds.