---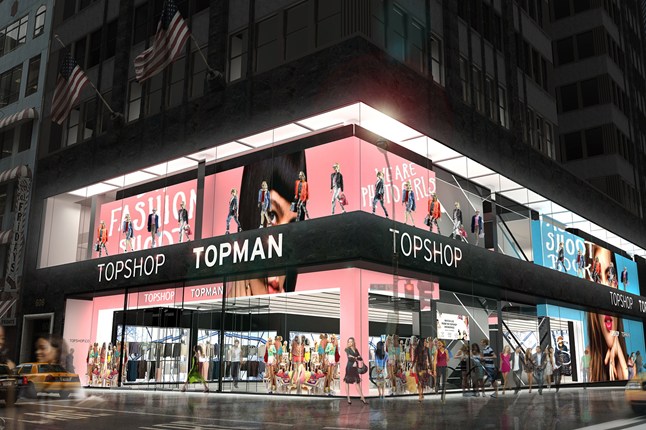 Topshop and Topman New York Fifth Avenue Opening
.
High street giant Topshop and Topman have announced that they will open their latest New York flagship store on Manhattan's iconic Fifth Avenue. Standing at 40,000 square feet on the corner of 49th Street and adjacent to the legendary Rockafeller Centre, the store will be the second largest in the world next to the famed UK flagship, which stands at 90,000 square feet on Oxford and Regent street in the heart of London's West End.
Set to open in Fall 2014, the shop will feature full collections for both brands, collaborations, exclusives, trend-led mainline and full personal shopping services. The shop interior will take a new approach to modern retail architecture by introducing art-deco glazing on the upper levels as well as continuous glazing on the bottom two levels. This will allow the innovative window displays to create a dramatic wrap-around effect, complementing the prominent corner positioning of the Landmark registered building, built by Henry Goelet in 1931.
Topshop and Topman have significant plans to expand further within the USA, anticipating four new store openings in Spring 2015 including Fashion Valley in San Diego, Springfield Town Centre in Washington, Galleria Mall in Houston and Lennox Square Mall in Atlanta. Additionally, the brand foresees 80 new store openings in 13 countries including Australia, Brazil, and Hong Kong and is preparing for 15 store openings over the next 6 months in Russia, Turkey and Vietnam.
With notable plans for further growth within the international market, this opening signals an important stage of development for the brand, as Topshop and Topman continue to maintain their presence as the ultimate purveyors of contemporary British style at affordable prices.
Written by Katrice Dustin for Client Magazine