---
In one short season, Bobby Abley has gone from a presentation comprising of just 6 outfits to a packed out 16-look runway show supported by both Fashion East and Topman
.
For his MAN debut, Abley sent an army of medieval knights down the runway in buckled leather crowns, accompanied by a youthful collection defined by a now-signature hybrid of sportswear and cartoon motifs.
We caught up with the Abley to discuss his design process and find out what pressures a Topman backing can bring.
1. SS14 was your first runway show with Fashion East/MAN. How did it go, for you?
Amazing. I was a little overwhelmed with the reaction, but it makes all the hard work worth it.
2. Does an added backing from Topman and that 'step up' from an installation to a runway show bring new pressures?
Oh of course, to go from a six look collection to sixteen it a huge jump and you've been given a runway, more work is involved, more people are involved. With an installation people are constantly moving around and the vibe feels slightly more relaxed. But when there are hundreds of people seated to watch your collection come down the runway the pressure is on.
3. Could you talk us through your design process? Where do you usually begin at the start of a new season?
I usually stick a pin on something that I've been really into or getting into at the time and go from there. Whether it be a cartoon or a movie, book etc. I never go out of my way to find inspiration; I stick to what comes naturally, then I start to pull out possible print ideas and shapes. It kinda snowballs from that point.
4. You have an obvious appreciation for Sportswear, evident in the shapes and fabrics shown within your collections. Where does this love for Sportswear stem from?
I love to feel comfortable, I struggle wearing shirts and tight, heavy things, so I make what I like to feel good in and sportswear is comfortable and easy to wear. I also like the hybrid of my cartoon aesthetic mixed with sporty shapes. And I've never really been into sports so maybe that's my way of feeling involved.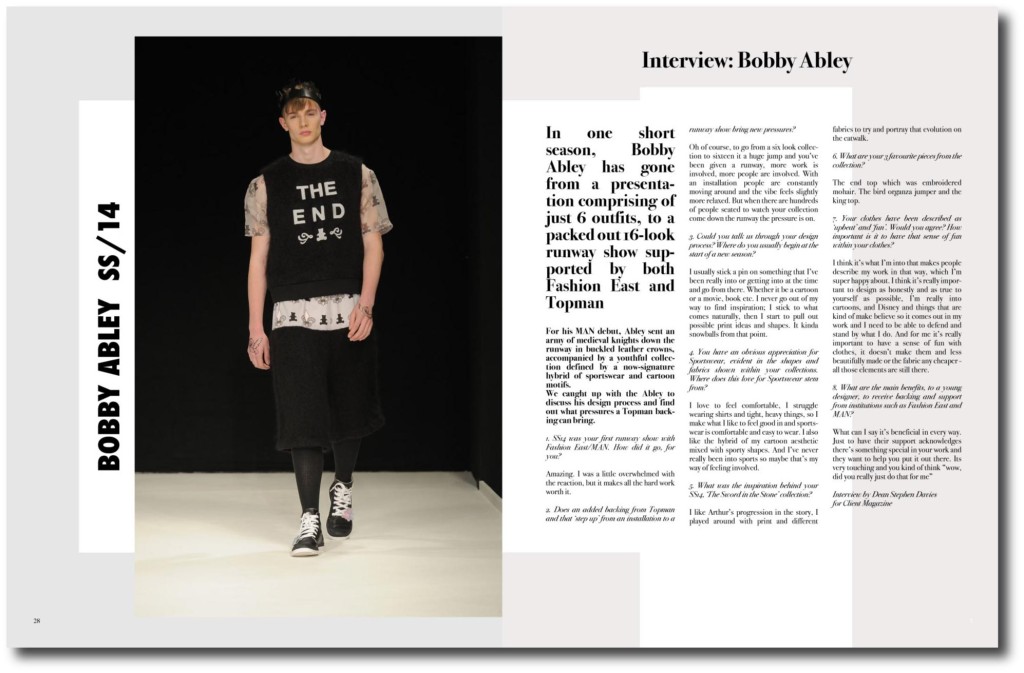 5. What was the inspiration behind your SS14, 'The Sword in the Stone' collection?
I like Arthur's progression in the story, I played around with print and different fabrics to try and portray that evolution on the catwalk.
6. What are your 3 favourite pieces from the collection?
The end top which was embroidered mohair. The bird organza jumper and the king top.
7. Your clothes have been described as 'upbeat' and 'fun'. Would you agree? How important is it to have that sense of fun within your clothes?
I think it's what I'm into that makes people describe my work in that way, which I'm super happy about. I think it's really important to design as honestly and as true to yourself as possible, I'm really into cartoons, and Disney and things that are kind of make believe so it comes out in my work and I need to be able to defend and stand by what I do. And for me it's really important to have a sense of fun with clothes, it doesn't make them and less beautifully made or the fabric any cheaper – all those elements are still there.
8. What are the main benefits, to a young designer, to receive backing and support from institutions such as Fashion East and MAN?
What can I say it's beneficial in every way. Just to have their support acknowledges there's something special in your work and they want to help you put it out there. Its very touching and you kind of think "wow, did you really just do that for me"
Interview by Dean Stephen Davies
for Client Magazine
Ordering:
Available in print & digital editions from the CLIENT Archive