---
Archibald Optics is a London based Eyewear brand with  strong principles and a story to tell. We interviewed them for Client Style Guide #8
1. What first interested you to create an eyewear brand?
To be honest, it was just a case of a series of events clicking together all at once. My mum gets an honourable mention, as she was the first to expose me to the ridiculous prices for eyewear on London High Streets. Of course, there was always the option of discount chains, but my mum was determined to find a quality pair of frames at a reasonable price. It was her lack of choices that got me thinking.
As a direct-to-consumer brand selling glasses online, it is impossible not to mention Warby Parker. Glasses Direct may have been the first of its kind, but Warby Parker took things a step further by selling their own brand online – rather than discounting other brands. They cut out the middlemen, thus making eyewear more affordable. Our original concept for what would later become Archibald Optics was to apply Warby Parker's model in Europe. However, upon diving into the eyewear industry and travelling around the various factories in China, Italy and Japan, I was also exposed to the variance in quality being offered.
The "aha" moment was when I started to question why Warby Parker's business model should only exist for a mid-range product? Why had no one ever promoted transparent markups and cutting out the middleman for a product of fine quality and craftsmanship? Archibald Optics was born from this shift in strategy – produce the finest eyewear, and then use the direct-to-consumer sales model so customers can have this boutique quality but at a much more affordable price.
Glasses were the perfect test case for this new strategy as the markups on high-end eyewear increase with quality. Furthermore, glasses are an important accessory in our daily lives. For those who wear them, it's the first thing on in the morning and last off at night – so you tend to see a lot of passion and enthusiasm from customers. Given their practical and stylistic importance, we wanted to offer people the best product at a price that was no longer forbidding. So it was a shift to create the best product first, and then charge as low as possible for it – rather than sacrificing quality to achieve a price point.
2. The glasses are all very sleek and classic; what are the main inspirations behind the designs?
Well first we held a design workshop, inviting friends that studied art, graphics design, and industrial design. We decided to use 1960s/70s British design as our reference point, due to the obvious cultural and creative significance of that period. It was important for us to approach this project from a new perspective, so it sort of worked to our advantage that it was everyone's first time designing glasses. Once we decided on the initial aesthetics for each frame, we brought our Japanese manufacturers into the fold as their experience provided the necessary tweaks to ensure each design remained practical.
To fully embrace the style and attitude of the 60s/70s, we immersed ourselves in the music, pop culture and film from that era. So your talking television – one I tend to mention often is the Tinker Tailor series – music of all genres, album covers, and through a close contact of ours we had access to very rare photography from the NME. It was quite a powerful experience to be honest, as you can't help but become nostalgic for such a bold and creative period. But walking over to do the grocery shopping was always a gentle reminder of the times – after hours of listening to material from the heyday of British Rock, we'd hear the incomparable Britney Spears and Will-I-Am on the radio.
Our collection also draws upon classic British automobile designs – Bristol, Aston Martin, Jaguar, Triumph and Lotus. We pulled up blueprints, visited classic car functions and studied these beautiful machines up close, drawing on minor details that showed the true mark of fine craftsmanship. We felt it was very important to acknowledge that this country used to be celebrated for its preeminence in the automobile industry, especially during this period.
Ultimately, we've tried to tap into that golden age of British design, while ensuring our styles remain relevant and functional.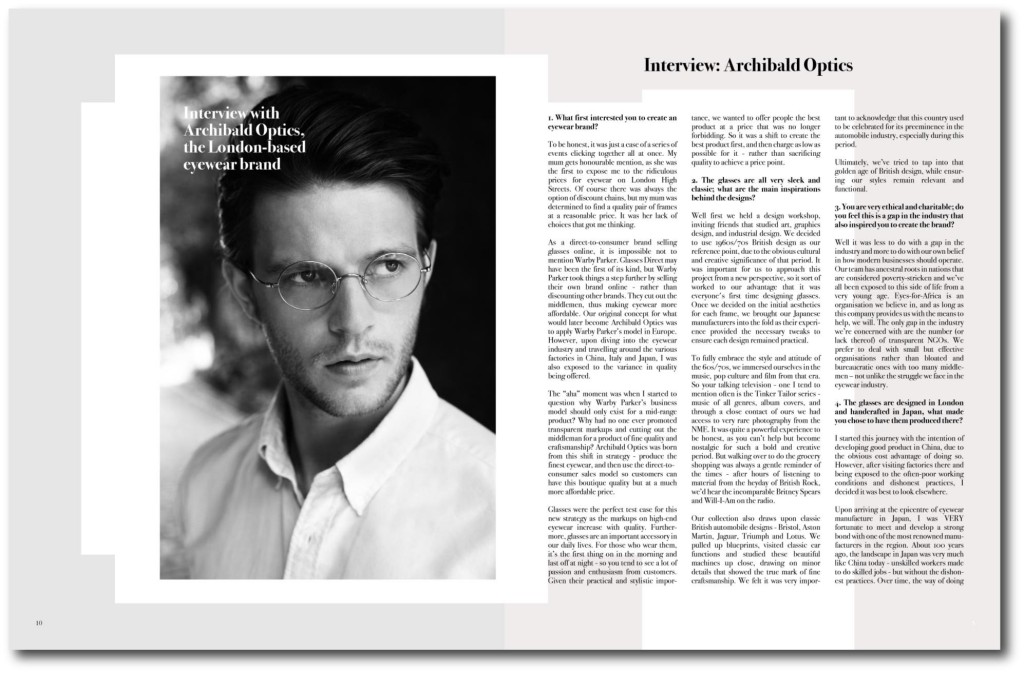 3. You are very ethical and charitable; do you feel this is a gap in the industry that also inspired you to create the brand?
Well it was less to do with a gap in the industry and more to do with our own belief in how modern businesses should operate. Our team has ancestral roots in nations that are considered poverty-stricken and we've all been exposed to this side of life from a very young age. Eyes-for-Africa is an organisation we believe in, and as long as this company provides us with the means to help, we will. The only gap in the industry we're concerned with are the number (or lack thereof) of transparent NGOs. We prefer to deal with small but effective organisations rather than bloated and bureaucratic ones with too many middlemen – not unlike the struggle we face in the eyewear industry.
4. The glasses are designed in London and handcrafted in Japan, what made you chose to have them produced there?
I started this journey with the intention of developing good product in China, due to the obvious cost advantage of doing so. However, after visiting factories there and being exposed to the often-poor working conditions and dishonest practices, I decided it was best to look elsewhere.
Upon arriving at the epicentre of eyewear manufacture in Japan, I was VERY fortunate to meet and develop a strong bond with one of the most renowned manufacturers in the region. About 100 years ago, the landscape in Japan was very much like China today – unskilled workers made to do skilled jobs – but without the dishonest practices. Over time, the way of doing things changed dramatically and the Japanese formed a guild-like system. This specialization had the effect of developing master craftsmen within a family tradition being passed down from father to son. Today, this system has created a region of Japan where the finest, and often most expensive, eyewear is made.
In a way, this Japanese discovery led to a reinvention of our business model. We transitioned from a brand that simply offered direct sales of glasses online to producing the highest quality spectacles we possibly could while taking an honest enough margin for ourselves – thereby allowing a luxury product to become affordable. In doing so, we became world's first luxury eyewear brand born online – and were able to excite a very important customer base. We've all been in a shop and know the feeling of being constrained by your budget from getting that thing you've had your eye on. Well now we're trying to make that product attainable. Archibald is about change and questioning the norm. It is about creating a product that matches the very best in the industry, and then selling it at a price that disrupts the silly mark-ups that we are used to seeing.
The vintage style glasses and ethical methods mixed with the modern online platform is really impressive. The Virtual Try On application highlights your attention to consumer trends; do you think this is one of the main factors that set you apart from other glasses brands?
I don't think so. To be honest, the Virtual Try On is more of a gimmick than anything else. It is fun and can be accurate at times, however internally we aren't very happy with it and its one of the systems we are trying to refine. For now, we pride ourselves on offering a very efficient Free Home Try On service that let's you spend up to a week trying three pairs of our frames from the comfort of your own home.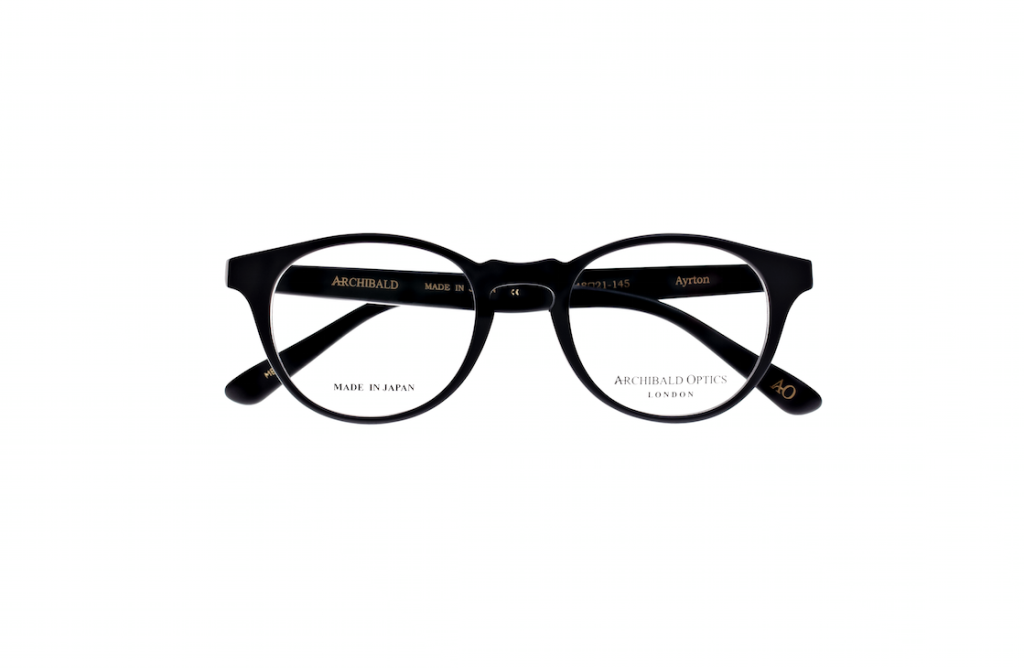 5. By offering something that's adaptable, principled and unique you suit everybody but when designing do you have a customer profile in mind?
That is a really interesting question. I would like to say no, but I think the reality is a yes. From a design point of view, it's all about the user experience. Be it our website, our products, our Home Try On service – everything is designed with an end customer in mind. We work very hard to think of every obstacle in the way of a great user experience, and then we work around those obstacles.
Ultimately, it is the consumer who decides if they appreciate our design ethos. We've already converted people who say they have been customers of Cutler and Gross/Oliver Peoples for more than 10 years. We found it most interesting that so many were converted at trade shows before they even knew our price point, thinking the frame alone would go for around 450 dollars.
Our price point is 175 pounds, including ULTRAThin (1.67 Hi – Index) prescription lenses. Ultimately, glasses are about a pairing of frame and lenses – so we made sure we carried the same quality focus in protecting people's eyes as we did with our frames. It happened by chance that a factory producing some of the finest lenses in Japan was only a few doors down from our craftsmen. This allowed us to tweak our business model further, as we could now offer a bespoke set of lenses along with our premium frames – the complete package – sourced/shipped direct from Japan to your doorstep. It also made sure we disrupt two industries…as the same set of lenses cost an extra 250 on the high street.
6. Who would you love to see wearing your glasses?
Arsene Wenger. Anyone who follows us on twitter knows that we are very passionate about football at Archibald Optics. In a way it serves as a common language, especially when you are traveling and dealing with different cultures. Mr Wenger is one of the most intelligent people in the game and a personal hero. It was just a co-incidence that he is considered a living legend at our adopted team in Japan.
7. What has been your proudest moment so far since Archibald Optics began?
The emails and feedback we receive from our customers. Ultimately, the glasses mean nothing without satisfied customers. I can think of one customer in particular who took his Home Try On Kit to a local high street optician to compare, and then wrote us quite the enthusiastic letter about how we were going to change the game completely. That was really special. But we know there's always more to be done, so we take this feedback as motivation in the pursuit of an even better product and service.
8. What can we expect to see from Archibald Optics in the near future?
We have something very special up our sleeves…that is all I can say.
Interview by Casey Devine for Client Style Guide #8
Ordering:
Available in print & digital editions from the CLIENT Archive