---
Salicin Skincare is a specialist skincare range that is uniquely formulated to cleanse, condition and restore skin, hair and scalp. Salicin is 100% natural, vegan-friendly and both paraben-free and fragrance-free. Many synthetic chemicals and preservatives used in common products cause skin irritation, so the Salicin range aims to bring relief to many who are struggling to find the right product to help balance their skin's ecosystem.
Salicin is a premium product, beautifully packaged yet very reasonably priced for the superior quality. Using a combination of white willow bark, dead sea salt, aloe vera and radish root ferment filtrate, Salicin were able to develop their 100% natural preservative, whilst the use of coal tar offers calming and anti-itching benefits. 
The UK-based company was founded in 2018 by Rosie Vero and Lynne MacGregor, who's husband Keith operates as the in-house chemist. Brought together for all the right reasons, Salicin is truly a labour of love.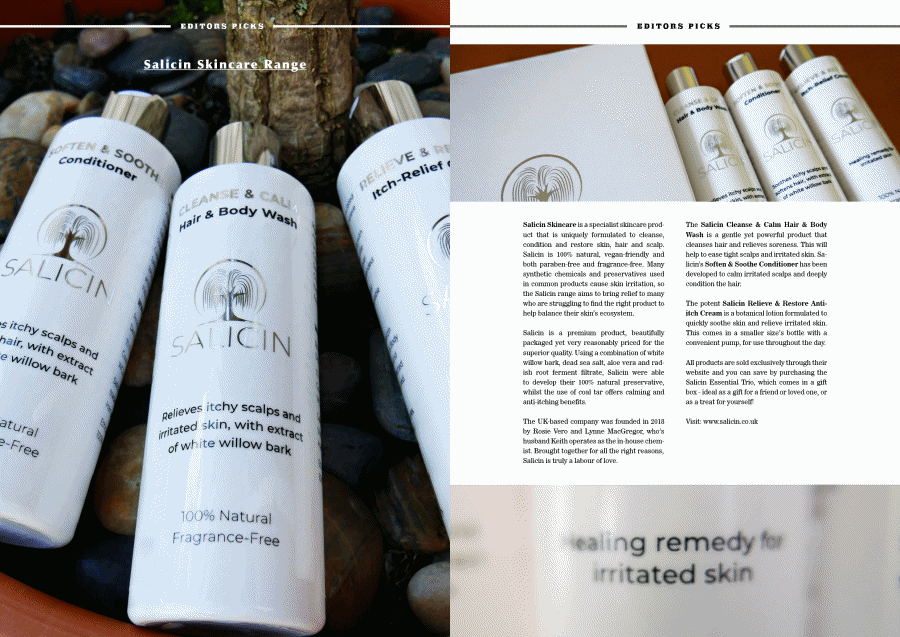 The Salicin Cleanse & Calm Hair & Body Wash is a gentle yet powerful product that cleanses hair and relieves soreness. This will help to ease tight scalps and irritated skin. Salicin's Soften & Soothe Conditioner has been developed to calm irritated scalps and deeply condition the hair.  
The potent Salicin Relieve & Restore Anti-itch Cream is a botanical lotion formulated to quickly soothe skin and relieve irritated skin. This comes in a smaller size's bottle with a convenient pump, for use throughout the day.
All products are sold exclusively through their website and you can save by purchasing the Salicin Essential Trio, which comes in a gift box – ideal as a gift for a friend or loved one, or as a treat for yourself!
Visit: www.salicin.co.uk
---
As featured in Client Style #21 (Digital Edition)
Softback Print & Digital Editions
*Get 25% discount with code "STYLE25"
App Store
eBook Bundle: 19 PDF Issues of Client Style
---