---
Contemporary menswear retailer oki-ni.com are welcoming 25 new brands for AW/15, including Casely-Hayford, CMMN SWDN, Neil Barrett and GANRYU amongst others. By way of introductions, oki-ni did a Q&A with some of the people behind the brands, check out some of them below…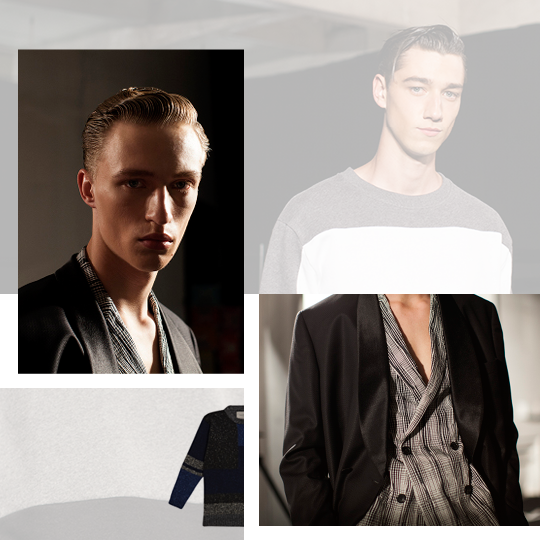 above: CASELY-HAYFORD Joe and Charlie Casely-Hayford
Joe Casely-Hayford is Creative Director of Gieves and Hawkes and together with his son, Joe Casely-Hayford, a graduate of Central Saint Martins, they are now a leading force in contemporary menswear with their brand Casely-Hayford
As Father and Son duo working together on the brand, you must be very close. Do you ever have disagreements?
Charlie: We disagree every day, but I think that's what hopefully makes our combination interesting. Our end goal is the same but we come at it from different perspectives. It creates a duality in every aspect of the brand and each collection.
Is it difficult to separate work life from family life sometimes? Over the years they have essentially become one thing as my mum also works on the business with us. So we have quite an old school set-up, but I wouldn't want it any other way.
Your roots are firmly placed in London – what's your favourite thing to do in the capital?
People watch. The culture clash in London is so unique; I spend a lot of time wandering the streets at a very slow pace trying to take in as much information as possible. It definitely fuels our creative process and is the greatest influence on the brand's DNA.
---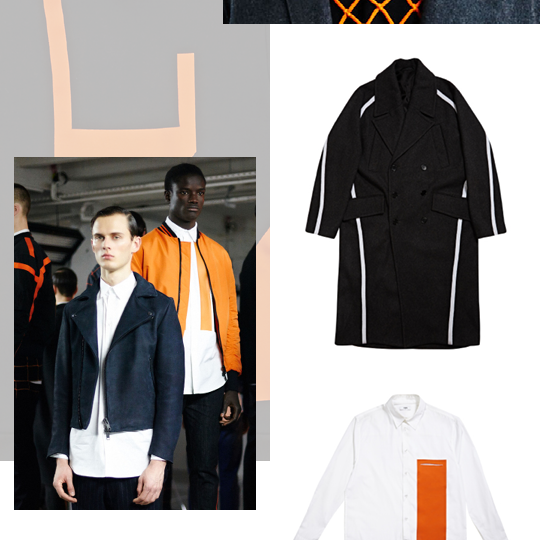 above: WOOYOUNGMI Katie Chung and Woo Youngmi
This mother and daughter duo have been turning heads with their modernistic menswear brand
Can you describe Wooyoungmi in three words?
Katie: Youthful, luxurious and relaxed.
You're a mother and daughter duo working in menswear – do you think that gives you a unique perspective?
Essentially we share the same brand DNA. Being female designers of a menswear collection, we're always trying to express a fantasy or desire towards a man by designing clothes. Working together has allowed that man to evolve. Woo Youngmi has become a mentor to me and I have a great respect for her knowledge and skill. At the same time, she allows me to have creative freedom, so the brand DNA develops in a unique way.
You often collaborate with artists on campaigns and have spoken about fashion and art being interchangeable – who's your favourite artist currently?
Do Ho Suh's large-scale installations are very beautiful and emotional. He creates site-specific installations, which use the space in an astounding way! I have always been very moved by his exhibitions.
---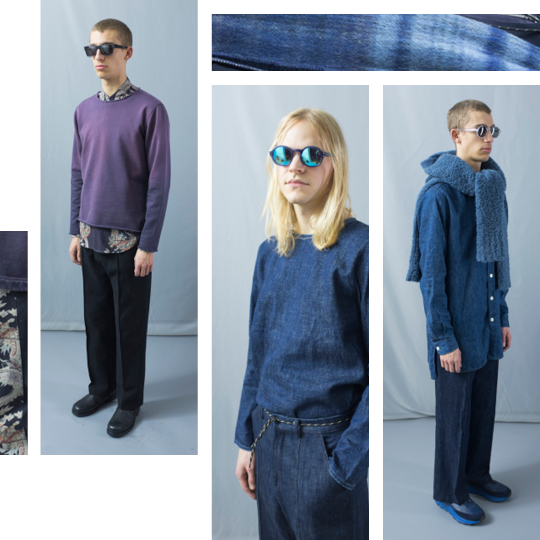 above: OUR LEGACY Jockum Hallin, Cristopher Nying and Richardos Klarén
Swedish minimilist brand OUR LEGACY focuses on subtle details, quality and longevity of each piece
How did you get to know each other?
Jockum and Cristopher: We grew up together in a town called Jönköping. After a few years away from each other we met again, realizing we wanted to do the same thing. In our twenties we also met Richardos Klarén, who joined the team. If you are working in the same industry and living in Stockholm the chance is rather big that you once in a while bump in to each other!
Like quite a few of our new brands, you're a team that closely works side by side. What do you think are the benefits of working together?
Together we've been able to find a nice balance, where a little from all of us is expressed through the collection. With this said, we all have different roles in the company.
What's the concept behind the AW15 collection?
Celebrating 10 years of the brand's existence, the Our Legacy Autumn/Winter 2015 Collection is entitled "TEN". It is a mixtape of what the brand has done this far – a compilation of influences from throughout the brand's history, but everything done with a new touch.
---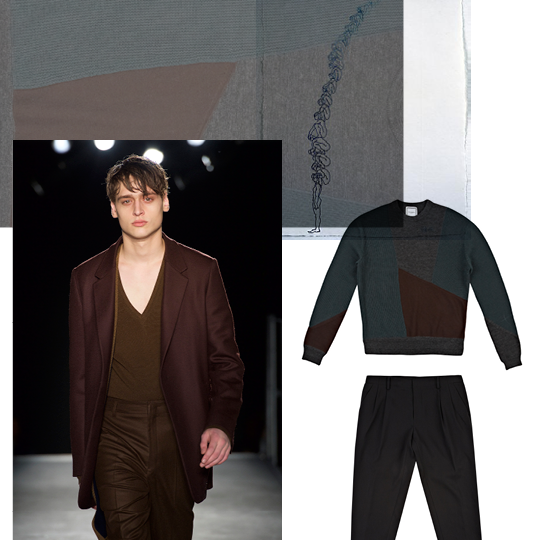 above: CMMN SWDN Emma Hedlund and Saif Bakir
Originally from Sweden but located in London, CMMN SWDN is synonymous with combining luxurious wardrobe staples with progressive, design-led pieces.
Before starting CMMN, you worked together at Kanye West's atelier with Virgil Abloh. What was that like?
Working with Kanye and Virgil was really inspiring, and also a great opportunity to meet interesting people within the industry. We were given the opportunity to visit so many Parisian couture ateliers that we wouldn't have access to normally. We were there from the start and helped set up Kanye's studio in Paris, which triggered the desire to start our own label.
What do you think makes you work so well together?
We supported each other a lot during our final years at university, so understand each other's working processes really well. We studied different disciplines within fashion – Emma did womenswear at Central Saint Martins and I studied menswear at London College of Fashion – so we complement each other in that way too.
You often talk about the brand being a hybrid of masculine and feminine elements. How do you keep that balance?
I have a more tailored, structured approach to design, whilst Emma's background in womenswear adds interesting cuts, colour and fabrication. When these contrasting elements combine, it creates a really great balance – and that's what defines CMMN.
For further reading and more brand Q&A's for AW15,
visit www.oki-ni.com