---
Young British actor Tom Taylor has already enjoyed a successful career as a child and in his youth, he is definitely on the hot list of ones to watch. Starring in British blockbuster The Kid Who Would Be King, Taylor talks to us in an exclusive interview, which you can read in full below. Available in print and digital editions and from the App Store on the links below.
Photographer Joseph Sinclair
Stylist Vix Adams
Hair Kieron Webb
Skin Lauren Kay
Actor Tom Taylor
Print & Digital Edition
eBook Bundle: Issues 1-12 for just £6
What do you do to chill out?
"I make music, I go to the gym and also play FIFA with my brother, Harry, who I beat every time, and he can't handle it, haha." – Tom Taylor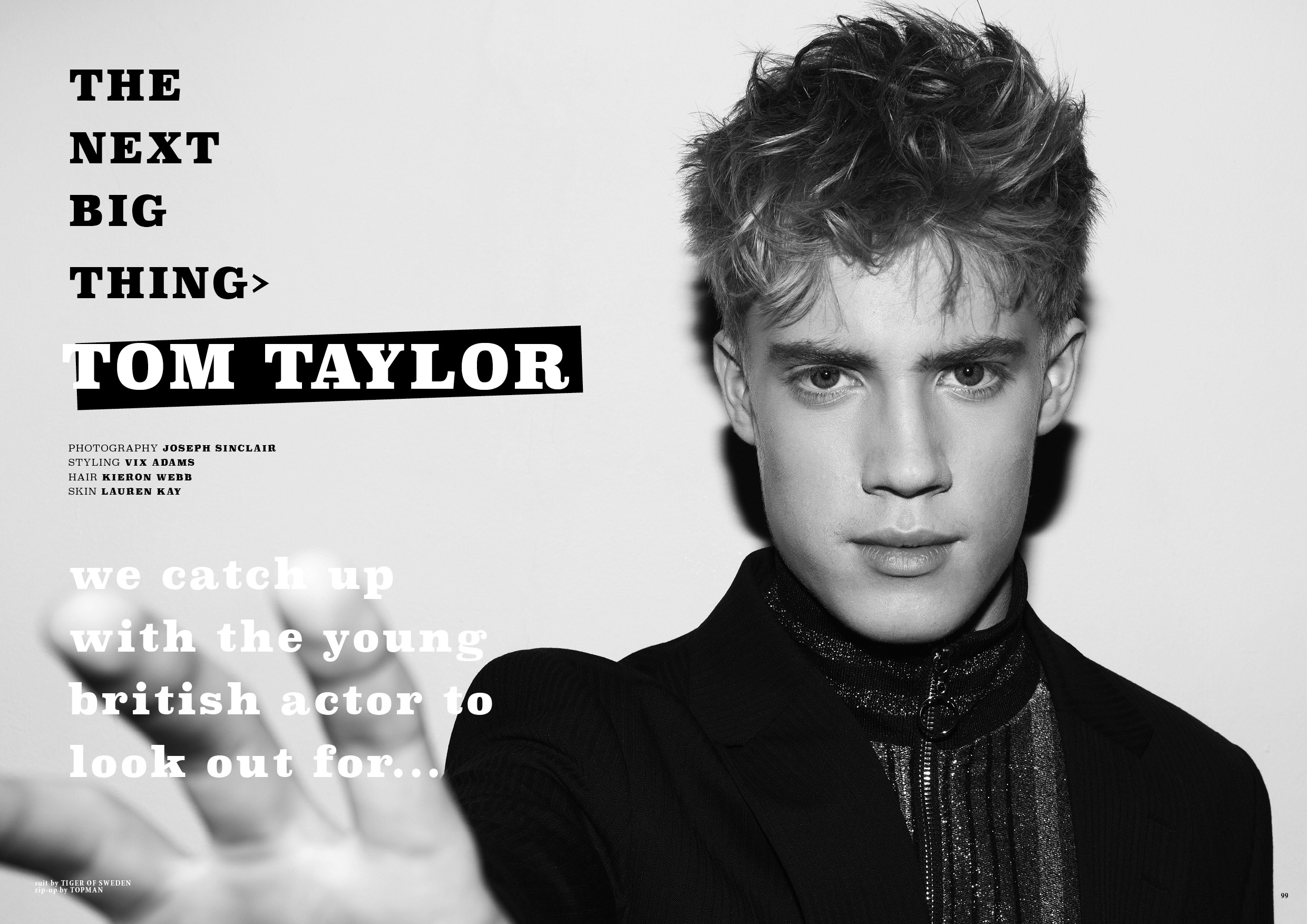 Interview with Tom Taylor by our Editor-in-Chief, Ian Cole:
IC: Reviews of The Kid Who Would Be King have been very positive, what is your personal favourite scene in the movie?
TT: My favourite scenes are when Merlin is first introduced in the film, walking naked into the chicken shop without underwear and when he's in school staring at Alex and Bedders in class before declaring he is a 'perfectly normal English contemporary schoolboy'!
IC: What was it like working with Joe Cornish?
TT: Joe is a fun director.  He never made us feel like we were just there to do a job because his passion and love for cinema was always evident when he was directing.  He made a lot of jokes and was almost like a big brother to the kids.  Because he is the writer and director his vision was always obvious, so from an actor's point of view, it was never confusing or challenging trying to figure out where my character was going because Joe made it really clear.  Which was great for us!
IC: What other directors do you admire or would love to work with?
TT: I would love to work with Nick Murphy again.  He directed me on my first major role in The Last Kingdom when I was 12.
IC: The cast of The Kid Who Would Be King was pretty special, including legendary Patrick Stewart, and in the past, you've worked with talents such as Matthew McConaughey and Idris Elba in Dark Tower. Do you feel you have learnt anything from any of them?
TT: They all shared some of their experiences and stories with me of being in the industry which at my age is so beneficial.  It's so easy to get carried away as a child with the attention and lifestyle.
IC: What's the most difficult thing about being an actor thrust into the public eye so young?
TT: I haven't really been thrust into the public eye yet but that may be to do with my previous roles requiring dark hair!  Actually, I'm glad that I wasn't well-known when I was at school because it's really tough for kids to live their lives without the pressure of always being watched (social media) and this is amplified with being a child star.  The most difficult thing for me was missing out on large amounts of time from school as you lose the flow of your education which means you have to rely a lot on self-discipline to study whilst working away.
IC: In interviews, you appear to have a lot of energy. Are you like this all the time? Does filming give you a real buzz?
TT: When I get nervous, say in an interview I grin a lot. It's all very exciting and still a bit weird to me, haha.  I'm quite hyper anyway and I never sit still.  When I'm acting and fully immersed in a role, yeah, I do get an adrenaline rush because it's so much fun playing a different character, especially if it's a complicated role.
IC: What do you do to chill out?
TT: I make music, I go to the gym and also play FIFA with my brother, Harry, who I beat every time, and he can't handle it, haha.
IC: If you weren't an actor, what would you be doing?
TT: I would probably be in college doing A levels and have no real idea of what I wanted to do.
IC: Where is the coolest place you've been on the planet or name somewhere you'd really love to visit?
TT: South Africa.  The Karoo desert.  It was like we were on Mars.  It was truly amazing and surreal at the same time. I would advise anyone to visit if they can.
IC: Do you prefer to play a villain or a hero?
TT: Definitely villains, you can certainly have more fun with the role!  I would love to play a low-key hero however, someone who you wouldn't expect to be a hero.
IC: If you could name one movie you would have loved to have been in, what would it be? (Can be a new movie or any from history)
TT: I would like to be in a war film, like Hacksaw Ridge – I loved that movie.
IC: What are you up to next? Any other projects in the pipeline you can talk about?
TT: I have had discussions about a future project but it's still in the pipeline.  I study music technology part-time and I have a couple of DJ'ing gigs lined up.  Right now though, I'm going to go and beat Harry at FIFA!
Thank you Tom!
THE KID WHO WOULD BE KING, in cinemas now.