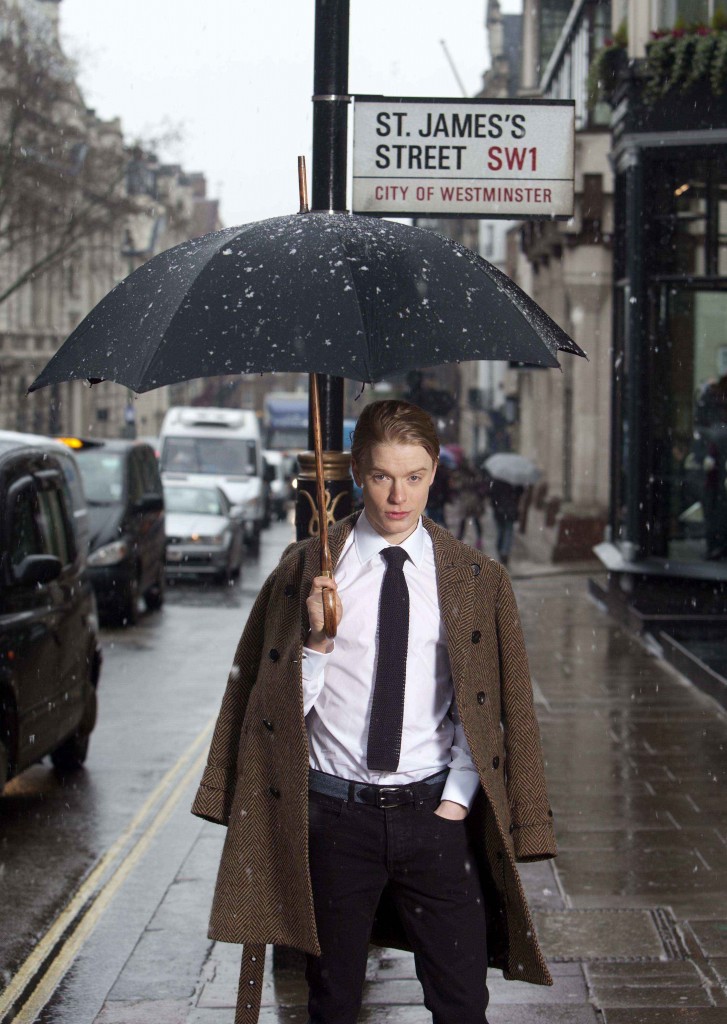 With London Collections MEN SS14 just around the corner, we take a look at one of the basic staples of all men's wardrobe – the classic white shirt. St James's in London is synonymous for quality tailoring and of course, the white shirt. Jermyn Street at St James's has the highest number of shirt-makers on one street and proves that not every white shirt is the same – there are MANY styles.
Throughout history, London has been a leader in men's fashion and earlier this year, St James's was proud to sponsor the Fashion East Installations at London Collections MEN, plus they hosted the Autumn/Winter shows of Tom Ford and Thomas Tait within the area.
Whilst London is a hub for cool designers and some outrageous collections, classic tailoring is just as strong. Richard Harvie, owner of Harvie & Hudson explains, "The white shirt still remains the best seller in St James's", whilst Damien Whitmore, Director of Public Affairs and Programming at the Victoria and Albert Museum is clear, "The white shirt represents the foundations of a man's wardrobe and has been for centuries. It seems like such a simple item, but the details are what make it the very epitome of style and elegance."
This is a true statement as there is a huge variety of shirts available at St James's, which is made possible by the wide choice of quality cloths, design elements like collar, cuffs, buttons, and the very specification can be created and customised for gentlemen and boys alike. Some of these prestigious shirt-makers include Turnbull & Asser, Harvie & Hudson, Emma Willis, Budd, New & Lingwood, Emmett, Favourbrook and Hilditch & Key.
The white shirt at St James:
Turnbull & Asser
The trademark look is a shirt exhibiting a three-button cuff. A ready to wear shirt costs £145
Emma Willis
Signature look for £290 is complemented by Mother of Pearl buttons
Emmett's
Signature shirt, at £95, is made using Baby Twill White, a weave known for its soft texture that becomes even more supple over time
Budd
Distinctive shirt, £115, is made of white poplin two fold cotton with a classic Budd forward collar
New & Lingwood
Signature style involves a curved collar ending in a point, allowing the collar to lay properly on the upper breast bone, and costs £95
Harvie & Hudson
Iconic shirt is the plush and luxurious white Herringbone and a white ready to wear version costs £64.50
Favourbrook
1850's Victorian Morning Wing Collar Dress Shirt at £90 has an accentuated high collar and emphasised wing lapels that create a stunning effect when paired with a silk cravat. Along with the medium weight white cotton poplin, covered buttons and French-cuffs, the straight cut tailoring creates an elegant profile
Hilditch & Key
The bestseller is the Carlton with their classic collar and double cuff, made with the finest two-fold cotton poplin and real shell buttons
So next time you're in London, don't forget to visit St James and learn a bit about the amazing tailor's and shirt-makers that they have or visit  www.stjameslondon.co.uk for further information.
Written by Ian Cole, Editor-in-Chief for Client Magazine