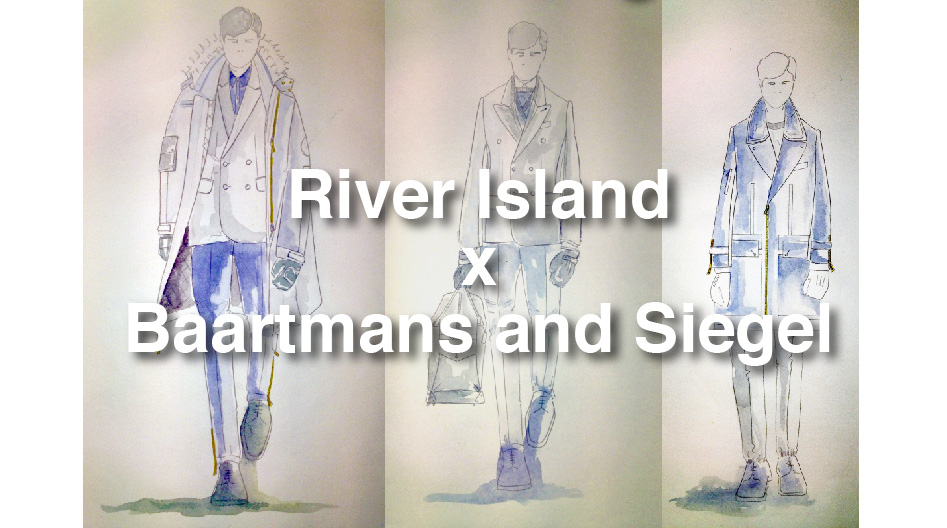 River Island Design Forum Announces Baartmans and Siegel for Autumn/Winter 2014
Wouter Baartmans and Amber Siegel met while working at Viktor and Rolf and were united by their combined belief in beautiful craftsmanship and imaginative design. After graduating from the renowned Menswear Fashion Design and Technology BA and MA at London College of Fashion in 2010, the Dutch/English duo have secured their place as the rising stars of the LCM schedule and have gained the support of leading industry journalists, stylists and buyers through their strong use of interactive textures and focus on luxurious fabrics in imaginative shapes that strive to remain truly accessible.
The narrative behind the Autumn/Winter 2014 collection centres on a strong masculine protagonist with dark cinematic elements reminiscent of the works of Phillip K Dick and the stark synthesizer noir of film director Michael Mann. The range offers key outerwear pieces such as a structured double breasted blazer in a high quality wool mix fabric as well as a distinctive goose down puffa jacket with reverse feature, while accents of slick accessories and statement footwear, including a unique petrol effect snow boot, help to define the brand's aesthetic.
The self described modern-traditionalists, Baartmans and Seigel have stayed true to their brand identity with an unwavering eye for detail and razor sharp tailoring. "When working on the concept for the collection we felt it was important to carry through our identity of indulgent masculinity with our signature fabrics and refined classic silhouettes. River Island's responsiveness and huge industry network has allowed us to maintain our high level of craftsmanship which has been most refreshing."
In celebration of the launch, River Island will present a film at London Collections: MEN in June, collaborating with Baartmans and Siegel on a project directed by Ryan Hopkinson as part of the Fashion Film initiative.
The 12 piece collection will be available in selected stores as well as online from September 2014.
Written by Katrice Dustin for Client Magazine