---
On the final day of London Collections SS14, our editor's visited the Richard James showroom in Saville Row, who had joined forces with Wedgwood, another British brand that is synonymous with craftsmanship, to bring us a special afternoon of classic afternoon tea and chocolates.
"I love the ritual of tea. It's something I look forward to every afternoon; there's something reassuring and reassuringly British about it. It's a truism that tea tastes better from good china, as it is that it's better for warming the pot and using only freshly drawn freshly boiled water. It's an altogether satisfying process and not unlike my work as a tailor, you're rewarded for using quality materials and not cutting corners." – Richard James
Our Editor-in-Chief had High Mountain Oolong Tea, originating from Taiwan's high mountains – and he tried Rose Petal Msala Marzipan by Paul A Young Chocolate with this – mouth-watering! Our Fashion Editor was tempted by her favourite Earl Grey, grown in Darjeeling, India. With this, she sampled Pacari Raw 85% Ecuadorian Classic truffle by Paul A Young Chocolate, and left her wanting more! The tea was of course served by impeccable staff in Wedgwood White fine-bone China tea-ware. A design classic since the 1920's.
All in all, a great experience and unique way to show us around the beautiful showroom. We took a few snapshots to share with you and at the bottom of this post we've included a must-see Richard James 'B-Roll' behind the scenes video from SS14 LCM – with more than a few familiar faces in attendance. Later that evening, Client's founder/editor, Ian Cole was also excited to shoot the front cover of a special London Collections Client Style Guide with model Allen Taylor at Select wearing full-look Richard James, styled by our fashion editor Marie-Claude Lamb. Classic tailoring meets Cool Brit! Previews of this to follow…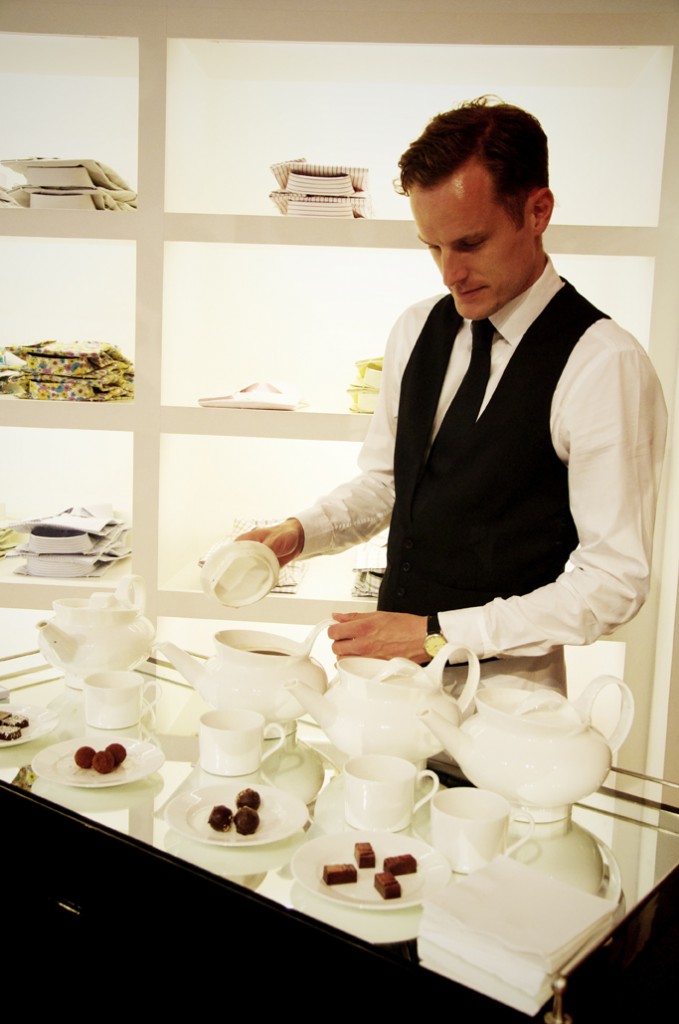 SaveSave