---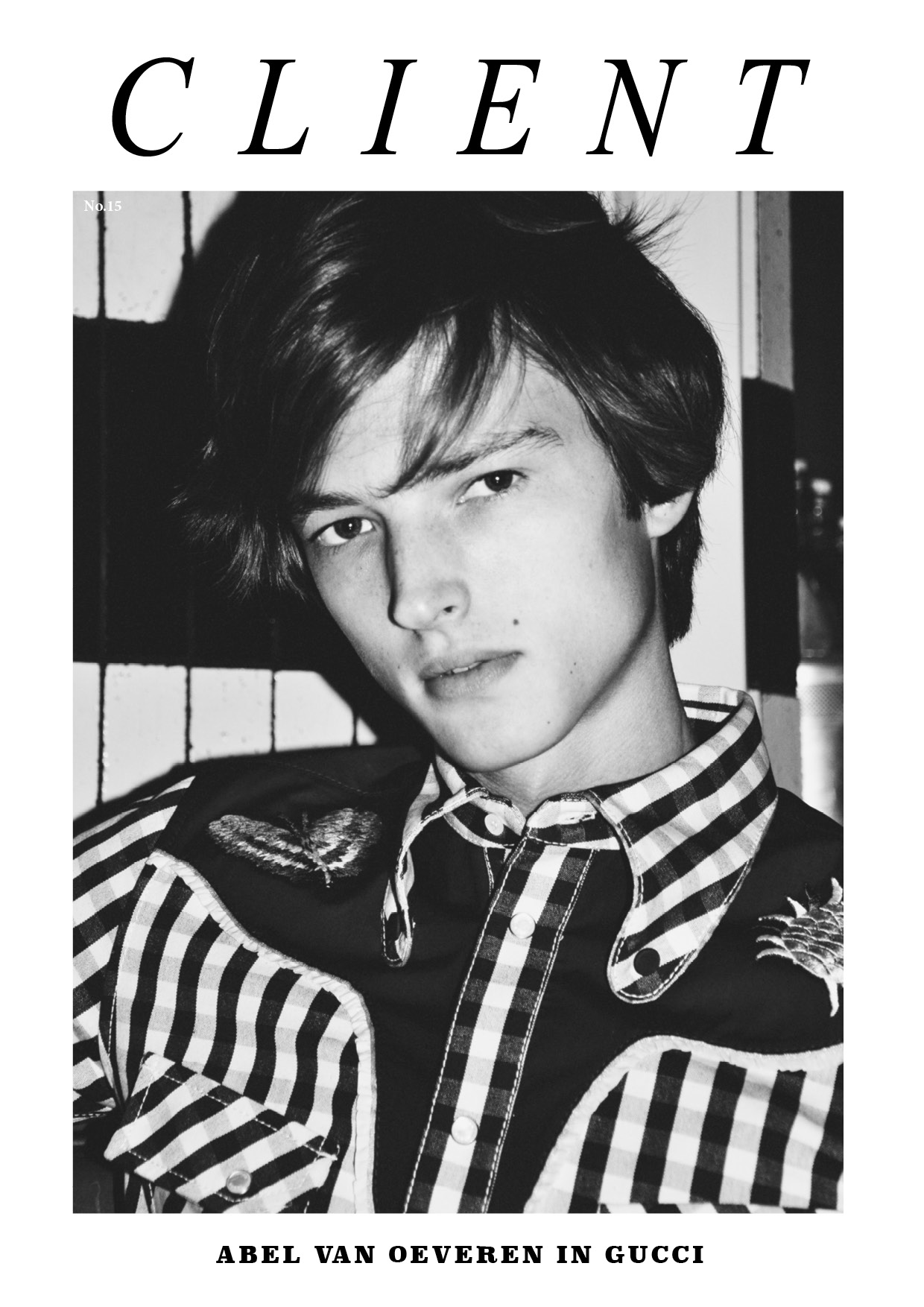 The long-awaited new issue is here, CLIENT #15, with two cover stories leading the issue and we added over twenty extra pages, so we could fit in the staggering 53 male models!!  The first cover story features Scotsman Connor Newall at Soul Artist Mgmt who is currently riding high on the lists of casting directors. Connor was photographed by CLIENT favourite Arnaldo Anaya Lucca at Art Department and styled by Christian Stroble, who dresses Connor in total-look Polo Ralph Lauren.
The 2nd cover story was photographed by CLIENT's founder and editor Ian Cole, during his trip to New York, where he had the pleasure of photographing Abel Van Oerveren at VNY Models on the streets near and around Central Park. Stylist Lisa Jarvis dressed Abel on the cover in Gucci. The story also integrates a series of stills & landscapes of New York, taken during Cole's trip for our upcoming launch of Client Voyage, but more of that later.
As mentioned, the issue features an amazing 53 models photographed far and wide and we've shared a sneak peek of every story below. The full contributor & casting list for the productions is also detailed below. Enjoy!
 Order print editions and digital editions.
CONTRIBUTING PHOTOGRAPHERS
Andrew Hiles
Arnaldo Anaya Lucca
Caoimhe Hahn
Emmanuel Giraud at The Art Board
Ian Cole
Johan Nilsson
Jonas Huckstorf
Julien Bernard
Jun Yasui
Léa Gendrot
Marcus Cooper
Portia Hunt
Sylvain Homo
CONTRIBUTING STYLISTS
Atip W
Christian Stroble
Cristina Planelles
Edem Dossou
Helen Seamons
Hollie Clark
Ivona Yvon
Laurent Dombrowicz
Lisa Jarvis
Maria Montii at Hall & Lundgren
Serdane Messamet
Wendy Quintana
Yinon M
C A S T I N G
Abel Van Oerveren at VNY Models
Adam East at Ford
Adonis at DNA
Alejandro Vallina at Uno Models
Alex Recort at Traffic Models
Andre K at Mikas
Asir Goñi at Uno Models
Avaro Silveira at Elite Barcelona
Benjamin Benedek at Wilhelmina
Billy Vandendooren at Success Models
Bram Valbracht at Wilhelmina
Brodie Scott at Wilhelmina
Charlie James at Fusion
Connor Newall at Soul Artist Mgmt
Diego Villarreal at Fusion
Emilio Flores at Traffic Models
Erin Mommsen at Request
Erin N at Mikas
Felix Gesnouin at VNY
Gabriel at Bananas
Harvey James at Uno Models
Jacob Morton at DNA
James Chapman at Select
Janis Ancens at Elite Barcelona
Javier Darder at Elite Barcelona
Jegor Velled at Elite Paris
Joan Mirangels at Traffic Models
Kyle Mobus at Bananas
Liam Little at Request
Luca at Success Models
Lucas S at Success Models
Ludwigs at 16Men
Massimo at The Squire Mgmt
Michael Lockley at Red
Mihai Bran at Elite Barcelona
Oscar B at Premier Models
Oscar Kindelan at Uno Models
Rafael Bertó at Traffic Models
Reid Rohling at Fusion
Reuben Ramacher at Elite London
Robert Labby at DNA
Sam Steel at Elite Barcelona
Samuel Rock at New Madison
Sergi Borau at Uno Models
Simon B at Stockholmsgrupen
Sup park at Wilhelmina
Thibaud Charon at 16Men
Valters Medenis at Elite London
Victor Chitanu at Uno Models
Victor Perrot at 16Men
Vincent Giovanoni at 16Men
Wiktor Suddol at 16Men
Xavier at Bananas
Published by Ian Cole