---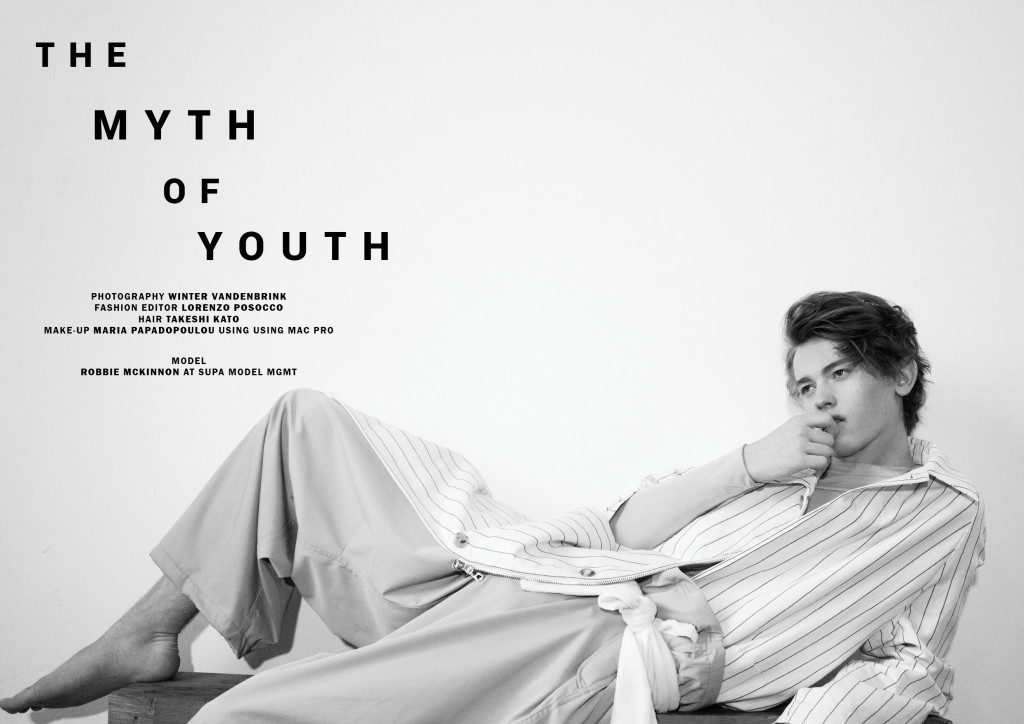 We're excited to share the official preview of Client Magazine #13, titled 'The Myth of Youth'. The perfect model for this cover is Robbie McKinnon at Supa, photographed by Winter Vandenbrink and styled by Lorenzo Posocco. We are now entering our 5th Year and we think you will love how CLIENT is evolving. Pre-order for both print & digital editions is available from the links below and you will receive a free Client Journal/Notebook, and stationary goodies with every order + free shipping in the UK.
"There is a fountain of youth: it is your mind, your talents, the creativity you bring to your life and the lives of people you love. When you learn to tap this source, you will truly have defeated age."
Sophia Loren
Collections featured include Alexander McQueen, Krisvanassche, Wooyoungmi, E.Tautz, Neil Barrett, Dunhill, Christopher Shannon, Raf Simons, Kenzo, Issey Miyake, Andrea Crews, Hartono, Ermenegildo Zegna, Emporio Armani, Brioni, Cerruti, Levi's, Carven, AMI, Louis Vuitton, Dries Van Noten, Lanvin, Bally, Bottega Veneta, Prada, Gucci, John Smedley, Loewe, Lyle & Scott, Calvin Klein, Valentino, Maison Martin Margiela, Umit Benan, Marni, Iceberg, Alan Taylor, Xander Zhou, Woolrich, Duchamp, Alexander Wang, Rochambeau, Emmanuelle Khanh, Soulland, Wood Wood, Kit Neale, Just Cavali, Katie Eary, Blood Brother and more…
Casting
Bartolome Chapel at Success, Paris
Callum Ward at New York Models
Chris Millington at Established
David Vaicekavicius at New York Models
Dennis Nyero Okwera at AMCK
Isak Rindom at Soul Artist Mgmt
Felix Gesnouin at Success, Paris
Jacob Pastor at Fusion
Jay at Select
Jordan Goodenough at Select
Kai Keller at Supa
Naleye Junior at New York Models
Robbie Beeser at FM Models
Robbie McKinnon at Supa
Rhys Pickering at Bananas, Paris
Timur at Next Models
Tommy Marr at Soul Artist Mgmt
Ysham at AMCK
Yulian Antukh at New York Models
Contributing Photographers
Charl Marais
Christian Rinke
Francois Pragnere
Hordur Ingason
Iringo Demeter
Laurent Humbert
Nicholas Prakas
Ricardo Gomes
Rodrigo Carmuega
Roxanne Hartridge
Winter Vandenbrink
Contributing Fashion Editor's/Stylists
Andy Salmen
David Hawkins
Fernando Torres
Francesca Pinna
Kevin Kim
Karina Tanabe Jones
Lisa Jarvis
Lorenzo Posocco
Maud Dupuy
Nicco Torelli
Von Ford
.
.
Published by Ian Cole