---
Lou Dalton Interview by Jade Fitton, Features Editor, Client Magazine
Growing up in Shropshire, Lou Dalton left school at 16 to pursue an apprenticeship in pattern cutting and bespoke tailoring. With these skills safely under her belt she went on to study a Master of Arts in Menswear Design at the Royal College of Art and held her debut show at Paris Menswear Fashion Week in 2010; her ascent to one of Britain's top menswear designers continued from here. Following Dalton's success at London Fashion Week A/W 2011, Client Magazine catches up with the designer and finds out about the narrative behind her inspirations, her advice to aspiring young designers and what she looks forward to in bleak winter months ….
You site your inspiration for your spring/summer 2012 collection as a combination of "The Pitmen Painters, the UK miners strike (1984-1985) and Matthew Bourne's Swan Lake". Quite varied inspirations, would you like to tell us what elements you took and why decided to take them for this collection?
I was a kid during the Thatcher years, the North was hit terribly during that time, I wasn't out to make a political statement but the grit and determination of these men standing up for what they believed in was something I could relate to and will find forever inspiring. Likewise the Pitman painters, these chaps would work the pits by day and lose themselves within their art of an evening – escapism. Matthew Bourne's Swan Lake was just that, a flight of fancy, to be free, to escape the harshness of everyday life and society. And as they say, opposites do attract….
Your collections seem to not only have very particular inspirations but a narrative to the inspirations, do you feel this is accurate and if so how do the narratives help you create?
I always try to build a tale or two in one's mind when designing a collection, it helps me to evolve an idea and also to be true to a concept. I work very closely with the stylist John McCarty who is super talented and totally gets me on every level. When I have built a narrative to the collection it is much easier to express myself verbally to John on what I am thinking and wanting to do. For SS12 I was super, super happy with the end result, the narrative here I feel was realised, I felt particularly emotional seeing the boys line up backstage and on the mass and thinking quite possibly we had nailed it.
You left school at 16 to enrol in a bespoke tailoring apprenticeship and then studied at the Royal College of Art; in a time when so many are struggling to fund a degree do you think having one is necessary to become a successful designer and what would be your advice to the 16-year-old you in the world today?
A good education is key, yes I left school at 16 to take up an apprenticeship but I was extremely lucky as this particular experience formed the person I am today. I knew at the time of working as an apprentice that the day would come that I would need to take it up a gear to be able to complete the vision I had mapped out for myself. I was surrounded by friends at the time who were making that difficult choice of what course to take at what university and back then it was trying, now with the planned financial cut backs it is becoming more difficult, equally this shouldn't deter anyone from pursuing their education regardless of your financial status, where there's a will there is a way.
The apprenticeship was thorough in terms of practical, however, it is important to have the theory to back it up. I have a small group of designer friends who like me can do the lot, design, sew and pattern cut which to deliver creatively on all levels is I believe super important. How can you fulfil your roll as a designer if you don't no these basic methods. My advice to any 16 year old is work hard at school in all subjects, move onto your A levels and if fashion is still your thing whilst completing your A levels, apply for an art foundation course which will give you an insight into all various art related subjects including fashion, upon completion of your foundation apply for your chosen course in Fashion. I was very, very lucky, opportunities like that are rare, being academically aware in terms of design is just as important. Competition is rife.
What song most reminds you of your childhood?
Propaganda, The First Cut.
Do you design with a man of a certain ilk in mind?
I don't have a muse as such, but do get off on a bloke with a bit of character, determination who knows what he wants etc, so yes I suppose I have that in mind. My own fella always looks pretty good in a bit of Lou Dalton and he has all those characteristics mentioned.  I just like to hope that the collection appeals to many, in the current climate where it is difficult to keep one's head above water, it's super important to be able to put clothes on backs regardless of who that consumer may be, its all about the want for good sell through to be able to move forward.
Whom would you most like to see wearing your clothes?
Anyone and everyone, Lou Dalton ain't every body's cup of tea I know that, but from the likes of Alan Bennett to David Hockney through to Vincent Cassel, Billy Childish and anyone who aspires for quality and attention to detail.
There are as many if not more male designers for women's wear, do you feel people making a point of you being a woman designing menswear is of any relevance?
Not really, I never really give it much thought. I only know menswear, from the time I left school at 16 till now it is all I have known, it's my DNA. Of course, there is the odd comment thrown in regard to a woman designing menswear but I try to ensure that the collection I put out is considered and thoughtful throughout as well as being well executed through cut and finish. I can design, cut a pattern and sew, the three most important aspects of good design. There are a lot of designers out there who can't even thread a needle, don't know what a French Bearer is along with the reason behind the use of a grip waistband. So in answer to your question, no I feel perfectly at home designing menswear because I have a vast knowledge on the subject more so than your average chap who calls himself a menswear designer…
Men's Day is becoming a more and more popular day at LFW – why do you think menswear has fallen by the wayside in the past and why do you think it we are seeing its popularity increase?
In menswear there is a great deal of mid-market heritage brands mixed with the high street here in London which of course deserve their place in the market and trade shows like Capsule, Tranoi all cater for such, however, the Men's Day incentive set up by the BFC & Topman was just super, we all want to sell clothes of course like the multiples do, but to be able to tell a story of a different kind aesthetically is also important for the growth of Menswear in general. I think people got bored, the buzz then was stale and dated. Topman & the BFC took the bull by the horn and ran with it and it's paid off, which is fantastic.
One thing you enjoy about the bleak winter months? 
Being able to wear layer upon layer of knitwear and not having to make an excuse to have the odd glass of port when the mood takes me.
Sonia Delaunay, Bridget Riley, Gabrielle Bonheur Chanel and Dries Van Noten are among your inspirations, who are your heroes?
Pretty much all of them along with my Parents, my Grandmother and Arthur Pardington; I left school at 16 to work for this chap as his apprentice, if it wasn't for him I wouldn't be here today doing Lou Dalton and finally Justin Haigh, my partner, my lover of 8 years, this man changed my life and for that I will forever be indebted to him x
Where do we go from here? 
SS12 collection delivered into stores including Liberty London, The Corner and Opening Ceremony to name but a few. AW12 development complete, Paris in January with Lou Dalton showcasing the collection during London Fashion Week as part of NEWGEN MEN……. so yes lots to do with plenty more to follow…..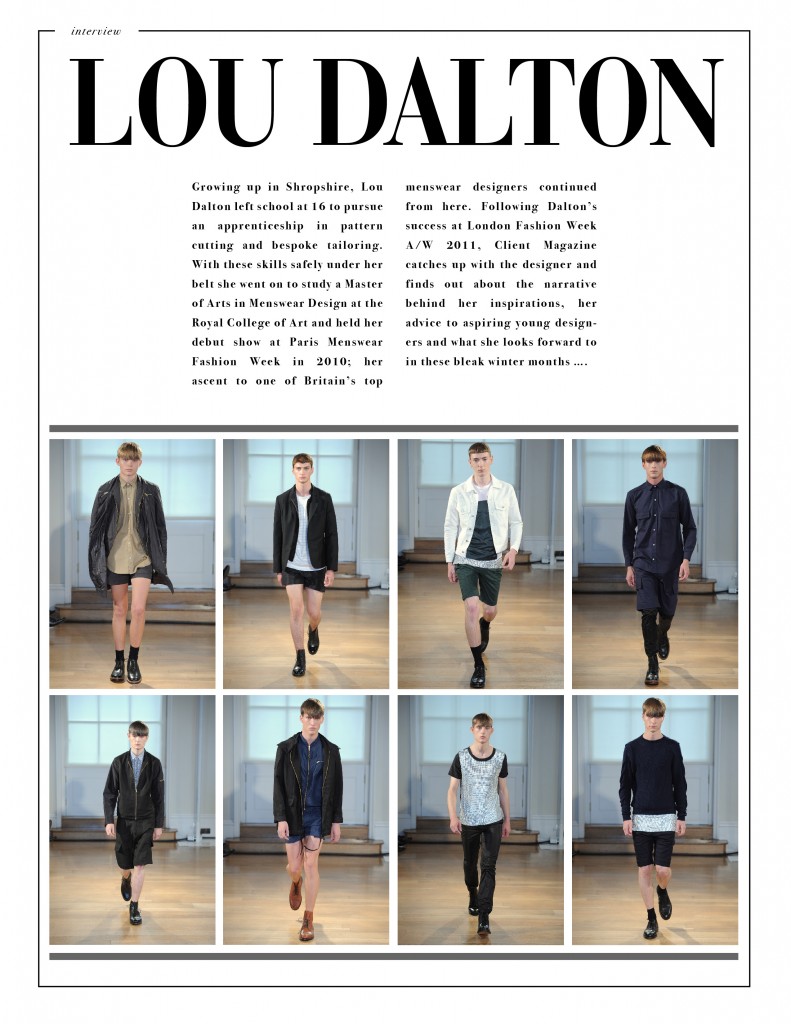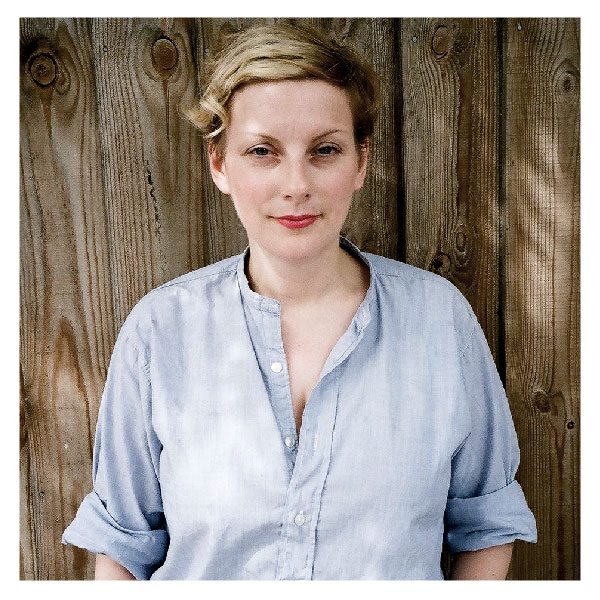 SaveSave