---
"I've been drawing as far as I can remember. I recall sketching some flowers as a child and I think figurative work caught my attention quite soon after. Drawing has been a constant and I think during my high school years I took more of a  conscious interest in art particularly. I started doing a bit of research of painters from past movements, buying several books referencing various artists, and sometimes trying to reproduce their technique. When I decided to attend the Fine Art exhibitions, I think that was the moment when I became aware that I was taking art more seriously and wanted for it to be part of my professional life." – Francesco Lo Iacono
Visit: www.francescoloiacono.com
Watercolor Fashion Illustration is available in major bookstores, including:
​Amazon USA – Amazon UK – Book Depository – Waterstones – Walmart – Foyles
---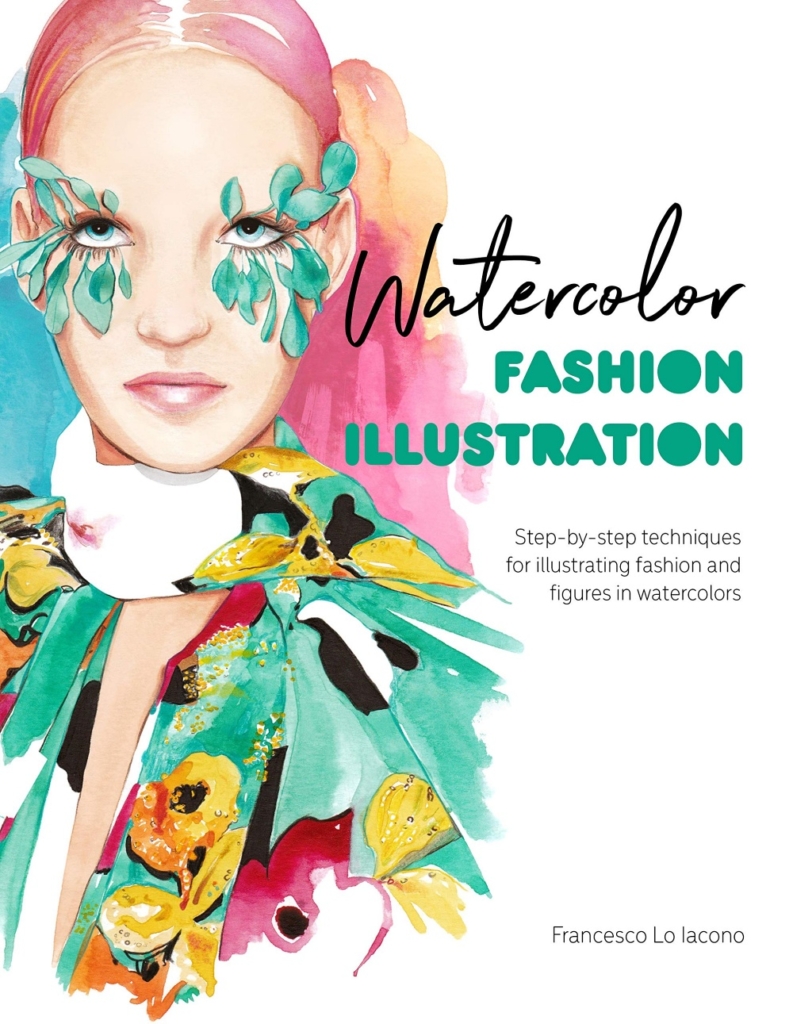 With your extensive list of clients which of the projects you've worked on has brought you the most joy and why?
I feel quite blessed if I have a look at all the projects I've been working on during these last years and the clients I had the pleasure to work with. I know it can sound corny, but it's quite true. One of the things that I love the most about my job is that it's always different and new. I've been creating illustrated editorials, advertising campaigns, live coverages; every day there's a new story to be told and I am just happy about it. Drawing is a joy for me and to be able to do this as part of my job is an absolute privilege. I do also love the challenge to work on something which is totally unusual for me, even if at first I feel a bit uncomfortable, I know that I will do my best to find, eventually, the right solution to visually unfold a story. And I love that. There are, of course, some projects that I have enjoyed more than others, but so far I can't recall a project I wasn't happy to be involved with. I may have been lucky, but I really love everything I've done so far. I have a very fond memory of my time backstage during fashion weeks, sketching for the likes of JW Anderson and Off-White, it's a very unique moment, you feel the rush and the adrenaline of sketching quickly and you also have the feeling of being part of a magic moment.
How does one go about creating a portrait using watercolour? Does the bleeding of colours help create depth?
For me, watercolour is now quite familiar and natural, I just love it. I think I have understood how to make the best of it and so, when I have to create a quick portrait, it's indeed my favourite medium as I know now how it works and how I can adapt it to my needs. But I do know that for some people and some beginners, it can be slightly scary if you are not used to it. But I have said several times that watercolour can be really quite useful to create in a few brush strokes the whole structure needed.
Recently you brought out your new book (which is stunning). Why did you decide to do a guide on how to create your style? Rather than just display your work within it.
I think it was a mix of timing and chance and in a way, it was also quite natural. I have been working as a teacher before, in Italy, and then when I moved to London I started tutoring a fashion life drawing class: each time I invited a talented designer so that people could draw from a model wearing these beautiful garments. It was such a great experience and I especially loved to talk with other illustrators and artists and see how that moment could be useful to them and their art. The class lasted for more than 2 years and then the pandemic hit so it was, of course, not possible to go on. At the very beginning of the first lockdown in the Uk, the first talks with my publisher started and so I can also see the book as the natural follow up of my class and a way to fully show my practice.
Other than your exceptional talent, is there anything that you do as a hobby or that has inspired you to reach this discipline?
Photography has been also a great part of my creative path. I wouldn't call it a hobby, actually. It's been a constant part of my process and when I was still a student I both created articulated photography projects along with sketches and paintings. Thanks to photography I also first approached the fashion universe and that's also how my interest in fashion illustration was born, a way to combine all of my interests. Even though right now I am much more focused on fashion illustration, I can tell that all that I have learned working with a camera has helped and contributed shape my eye as an illustrator today.
What's next for Francesco? Collaborations? solo projects? Exhibitions?
I am slightly superstitious, as long as the contract isn't signed, I don't usually talk about it! But there are more projects and collaborations coming and I am very excited about them. I definitely would love to have a solo exhibition but it's something to think about more properly and not just for the sake of it. It would need the right moment, the right space, the right selection of work. But it's definitely on my wish list!
Following on from the previous question, what is your main aim within art. Is it to teach? Is it to create?
I feel extremely blessed to be able to do what I do, I often say that as long as I can draw I am happy. So I do hope I will have the chance to keep creating and being challenged with more exciting projects. Creating will be for sure part of my life. But I do love teaching, I've been trained for that and I cherish my experiences as a tutor and teacher. So it's something that, once again, I'd be more than happy to explore with the right circumstances.
Interview by Adam Peter Hicks for Client Magazine