Client Magazine
.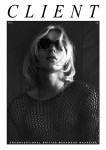 CLIENT is a British independent menswear magazine, founded in 2010 by Ian Cole and printed quarterly in mono in a quality soft-back, perfect bound format. There is a definitive classic feel to Client whilst embracing all that is here and now. Essentially it is a contemporary photography magazine and the genre is menswear. We are very keen to champion British design talent, but we are not limited by it.
Whilst not trying to take things too seriously, we use a fashion dialogue to explore youth and masculinity. To Client, originality is a must and we are crazy about featuring true talent. At the core, we're not a glossy, but neither are we an anti-glossy. It's true to say were not very conventional and as such, we tend to lead, not follow. We favour honest and authentic photography as opposed to over-the-top retouched images. We like to keep it real.
Every issue is hand-crafted, working with a global community of creatives, photographers, stylists and male models. As you can see from the covers and editorials, we work with some of the best, but we also have a keen eye for emerging talent and often feature a number of models before anybody else – casting plays a pivotal role in the production of the magazine.
Client is available by mail order and selected stores plus you can buy in print or digital download versions.
Client Magazine app

Client Style Guide British
.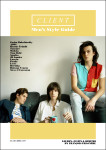 We also produce 'Client Style Guide' four times per year, which is a 'style supplement', to the regular issue. Originally much smaller in size, but now running over 100 pages in a beautiful soft back. This is where we feature both editorials and a shopping 'style guide' plus model and designer features. What to buy and where to buy it with hyperlinks direct to web stores on our digital versions. Client Style Guide is available in print and PDF versions as well as for free on the issuu.com platform.
Client Style Guide App

Client Style Guide USA


.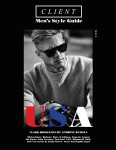 .
On 9th December, we officially launch Client Style Guide USA which is what is says – an American version of our British style guide. Expect the coolest and smartest male models as well as editorials and fashion / product features. This will also be available four times per year in print and digital versions and on the issuu.com platform.
Client Travel Journal's
.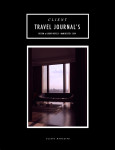 A number of luxury magazines and guides are currently in production as part of a series of Client Travel Journal's. The Client Travel section will in 2015