MOTW#13
Ricki Hall at Nevs Models, London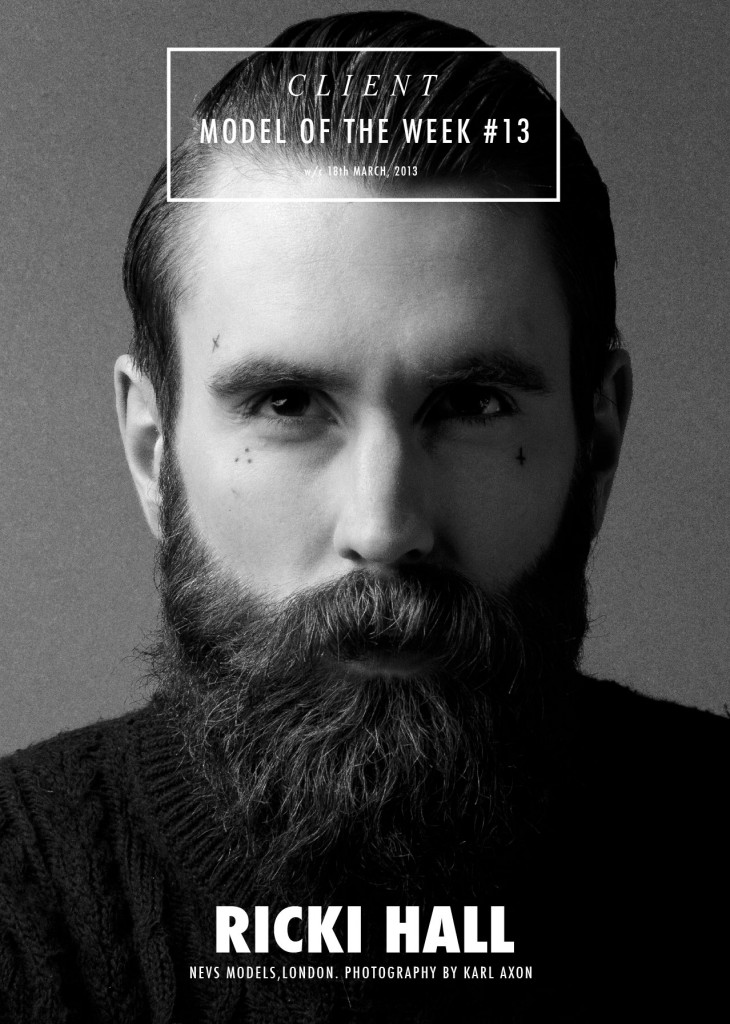 As Client is about exploring youth and masculinity, who better to feature as model of the week than the bearded wonder that is Ricki Hall. Amazing tattoos, slick hair and one beautifully groomed beard. A huge beard. Ricki is becoming more and more of a familiar face in modelling, and no wonder. We look forward to seeing Ricki on the pages of Client soon.
Photographer: Karl Axon
Interview: Marie-Claude Lamb
Where were you born and raised?
I was born and raised in Wolverhampton, West Midlands.
If you could be any person for the day who would it be?
I would be Johnny Depp, walking around being all weird and peculiar. Love that.
Any tips on beard maintenance?
Shampoo and condition it regularly, keep it hydrated and smelling darling with beard lube. Also I always put a tiny bit of cologne in beard as it stays in there all day.
Were you scouted?
Yes, when I came down to London for the day on my own to meet a friend I got scouted walking out of Topman on Oxford street, quite cliche really.
If you could be transported anywhere, where would that be?
If I could be transported anywhere it would be Texas, or suburban America I love the whole way of American life and how they live. Ever since I was a kid and seen Edward Scissorhands, I would love to live in that street.
Who does your tats?
Zibi Dombek does all my tattoos. He is an amazing guy and great friend.
Are you a pomade man or a gel kinda guy?
I'm a gel spray guy. I've never really gone down the pomade route. The gel spray keeps it in place and solid for a couple days. Great for a sharp side parting.
If you could go to any gig past, present or future which would it be?
I would go to one of the first guns and roses or Nirvana gigs for sure.
What's your motto?
Do something everyday that scares you. You will have a lot more interesting shit to tell when you're old.
If you could be on the cover of any magazine, which would you chose?
Would have to be Vogue wouldn't it.
What was the last book you read?
Last book I read was 'a million little pieces' by James Frey. Such a beautifully twisted and sad book. I loved it.
Are you superstitious?
I am very superstitious. Especially when it comes to ladders and umbrellas. I never open that shit indoors. Also crossing on the stairs, which proves difficult when walking down the stairs to the tube in rush hour. I always look very awkward.
What's your party trick?
Not sure i can say in this magazine. I can do some cool magic tricks though.
What would you call your autobiography?
My Autobiography would be called 'Charming,Vulgar beard face'