We catch up with Elite Models' Harrison Griffiths – lover of Nina Kraviz and Tech House!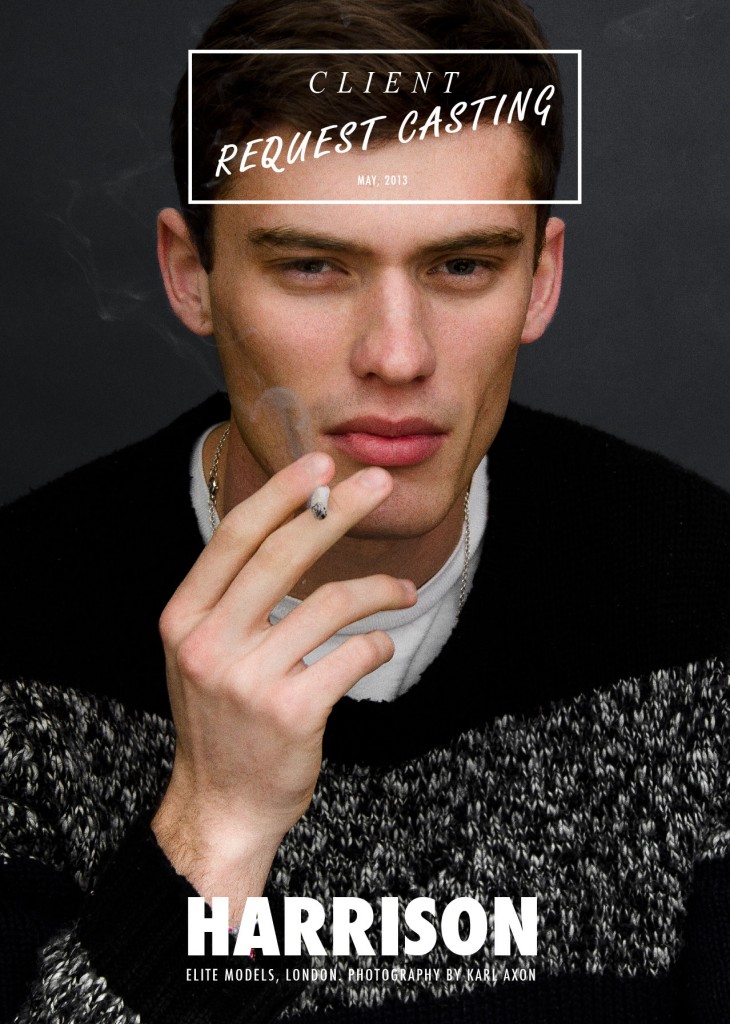 Harrison Griffiths at Elite Models, London
Photography: Karl Axon
Q&A
Where are you originally from?
A little village just outside Nottingham called Barrow-Upon-Soar. Currently live in Nottingham.
Whats been your most memorable moment in modelling so far?
Urm going out for a meal with Vivienne Westwood after her SS13 show is up there, but there's been lots of things happen I will never forgot.
When not modelling what do you get up to?
Without sounding too much like a clique, I'm heavily into electronic music. Me and my mate have set up a party in Nottingham called 'Palooza' (www.facebook.com/paloozanottingham) so i've been quite busy with that of late. It's going really well and its something we want to build for the future. I also DJ when I'm kindly asked by my mates. It's nice when I come to London as I have chance to pick some vinyl up and see artists I wouldn't have the chance to there. Other then that I do some writing for Pulse Radio (www.pulseradio.net) which I'm hoping to do more of out in Ibiza this summer.
Whats your favourite type of music?
I don't want to get to technical and bore everyone, but tech house and techno sit top of the tree for me.
Who are your favourite artists?
In terms of producers I'm really feeling Rodriguez Jr at the moment but people like Mano Le Tough, Nice 7, Mikalogic, Blond:Ish and Loco Dice stand out for me. Bands I'm into run along the lines of The Twang, Reverend & the Makers and of course The Stone Roses!
If you could meet anybody alive or not, who would it be?
Nina Kraviz, I think I'd run her a bath.
Favourite movie?
24 hour party people.
What wouldn't you leave the house without?
Tunes on my iPhone! Especially when getting the train to London.
AGENCY'S
Elite, London
Re:Quest,New York
Ford, Paris
Why Not,Milan
Elite,Barcelona
Blake, Nottingham