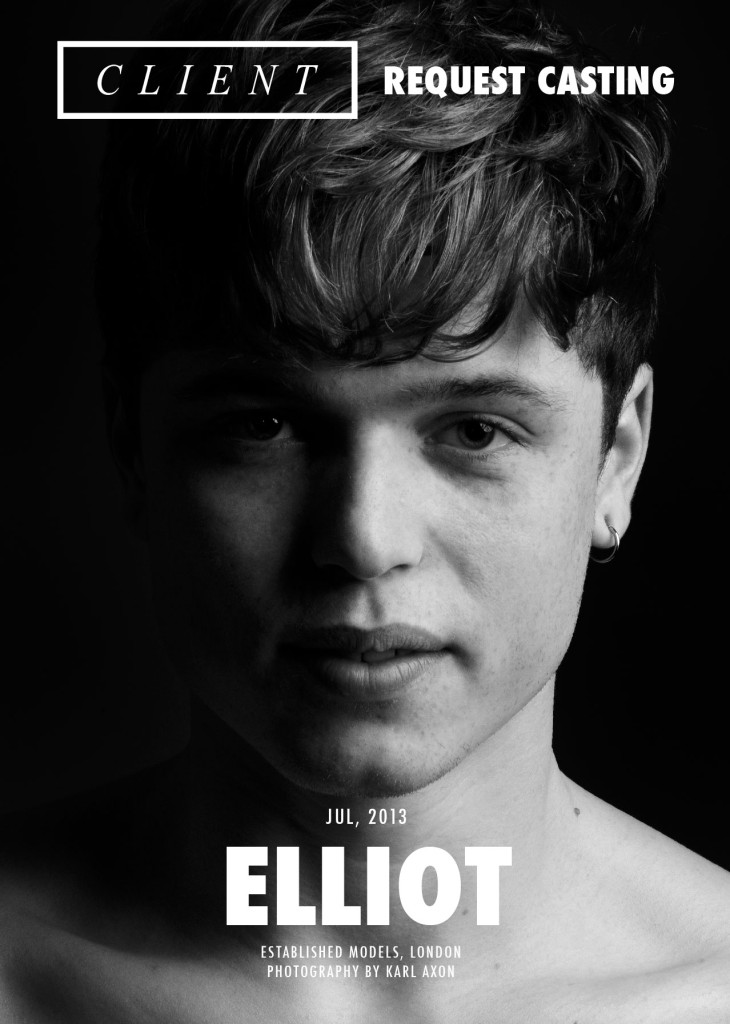 Name: Elliot Stevens
Agency: Established Models, (for updates check their Facebook page)
Elliot has some great experience behind him already – Topman, River Island, Dazed, Vogue, Electric Youth and he is hugely infamous on the skating scene. He is a good Northern lad from Bolton, near Manchester –  he dropped by for some portraits with Karl Axon and we asked him a few questions…
1. How did you get into modelling?
I finished art and design at college, after college I had a million different jobs working in retail, bars and sandwich shops. One day I was approached and met some guys who wanted to set up a test shoot in Manchester. After getting a few shots they said lets try a few agencies in London…and so it went from there really.
2. Is fashion important to you or just part of the job?
Yes I've always enjoyed fashion and especially because my friends and girlfriend are quite clued up about designers and fashion brands, I'm a bit more aware because of them. It makes the job alot more enjoyable if you're  working with clothes that you like I think.
3. Favourite type of music?
Been listening to a lot of Psychedelic from the 60s/70s at the minute
4. Best place you've visited whilst shooting?
I went to L.A last year. That was amazing. It was mostly for a holiday but I was shot in the river island campaign video. They shot at this mansion house that used to belong to Frank Sinatra . I didn't play a big role but just being there was pretty surreal.
5. Haggis, Caviar or a bag of Chippy Chips?
I'm from the north…Chippy chips, hands down. all day.
6. Name one thing that you love most about modelling.
The different people I've met.
7. Football or tennis?
Football -not a fan of tennis
8. Glastonbury or a 5* hotel?
Glastonbury -I've not been yet but maybe next year
9. Name one piece of clothing you own that you LOVE.
My workwear denim jacket I picked up from a thrift shop in America or these Dr Martens, £20 pretty much brand new from a shop in Manchester.
10. Would you prefer a 'lads holiday' or a chilled-out beach resort?
Chilled out beach resort with parties!