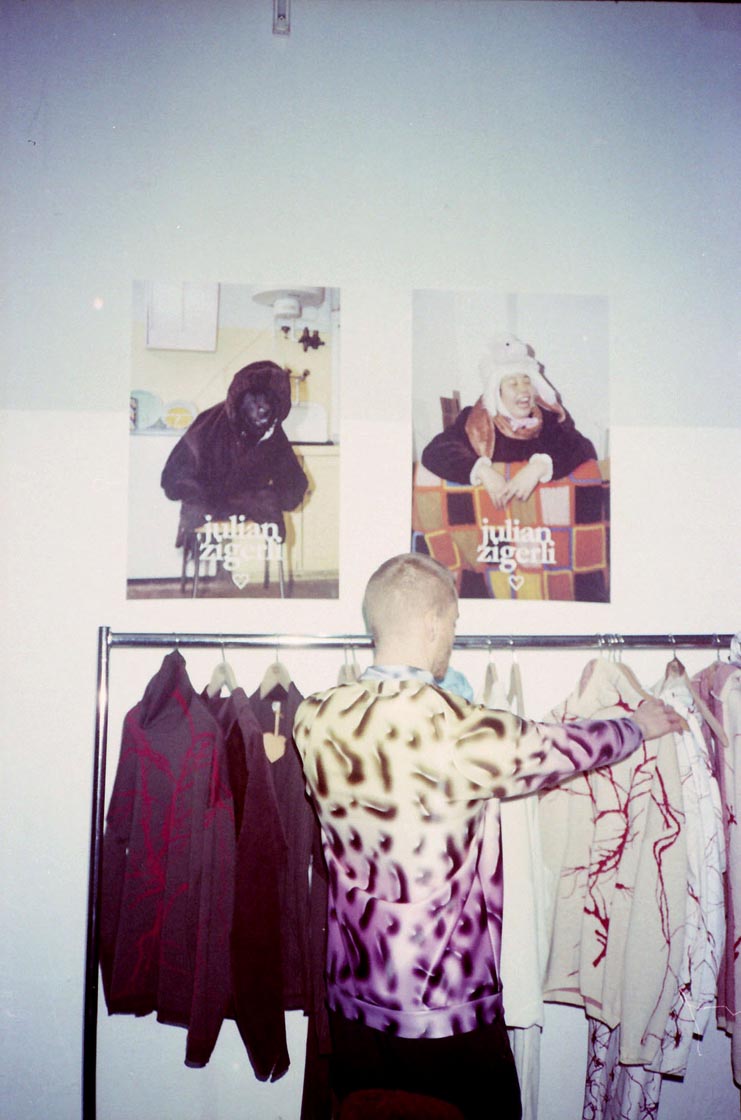 Julian Zigerli's AW13 Collection "Happy Tears" is inspired by the concept
of Tears of Joy. These so called "Happy Tears" shoot through our veins
like free flowing dopamine and leave us comfortably cringing. The prints,
cuts and materials from this collection are reminiscent of the feeling of
coming home and at the same time letting go. This intimately familiar
laugh echoes through our memories.
Prints made from magnetized iron powder and inked veins support the
feelings of power, agitation and liberation. Electrifying layouts contrast
the languorous high-quality materials and in turn deliver extreme comfort
in winter through their practical functionality.
About Julian Zigerli
Julian Zigerli was born and raised in Switzerland. Aged 20, he
left for Germany to study fashion design at the University of Art Berlin
(UDK). After graduating in 2010 he returned to his roots in Switzerland
and founded his own label: 'Julian Zigerli'. One of the founding concepts
of this label was to focus on constructing garments out of innovative
Swiss textiles.
Since his first collection, Julian Zigerli has celebrated great success both
nationally and internationally including a nomination for the Swiss Design
Prize in 2011 and the winning of the Federal Design Prize Switzerland in
2012. He has presented his collections in Zürich, Berlin, Paris, London,
Florence and Seoul.
Client has the pleasure of sharing these cool backstage images of Julian's show in Berlin last month, photographed by Alexandra Waespi
[nggallery id=28]